I bet someone has told you that you can make money with Affiliate marketing or you might come across a video online telling you how amazing you can have a great life just by promoting affiliate offers.
It sounds almost as if you can do it just by a few mouse clicks until you face reality. The facts of what is involved in having a successful affiliate career are more than people telling you hey… you can make money with affiliate marketing.
To actually make money with affiliate marketing, there are a couple of things to consider, The niche you choose, choosing the best affiliate platforms, the affiliate offers you choose to promote and most importantly, how to grow and keep a reasonable amount of audience.
Getting the right traffic matters a lot as everything you do depends on your traffic sources. You can choose the best affiliate platforms and offers but if you don't have reasonable traffic, your efforts will not pay off.
This post is meant to help you get started the right way and possibly be able to earn $7,000 per month in affiliate marketing earnings.
So let's start
What is Affiliate marketing?
Affiliate marketing is a process by which affiliates make money by promoting other companies' products or services to earn a commission in return for every sale they make through their affiliate links or banners.
You can earn either a one-time flat commission rate or it could be recurrent which means you get paid each time your referrer make subsequent payment such as monthly renewals.
It is a great way to make money online, to say the least, and you can start it with little or no budget. You do not need to invest a lot of money in affiliate marketing. You can typically start making money with your affiliate marketing using your social media profiles.
Key players
The industry has four core players:
All these players are important for successful affiliate marketing from start to finish.
How to get started
To start promoting affiliate offers, you will, first of all, need to do some research. This research sets you apart from others that simply jump into affiliate marketing and start complaining later that it doesn't work.
It's always better to know what you are getting into and have a goal and objectives of achieving your goal backed up with a master plan. This way, your success will be more guaranteed.
Here is what you will first need to do.
AFFILIATE MARKETING GUIDE FOR BEGINNERS
Choosing the right niche
There are over 100 affiliate niches to choose from. However, it's not just choosing any niche to start promoting. The goal is to pick the right niche.
By right niche, I mean niches that can easily make you money promoting affiliate offers. Here are some of the most profitable niches for affiliate marketing.
#1. Lifestyle and Wellness
This is one of the most attractive affiliate niches currently in marketing. It is estimated to hit over 6 trillion dollars by 2025. The reason for this massive growth is witnessed in people's behaviour.
Nowadays, people have become more aware of a healthy lifestyle which includes nutrition, sports products, sports equipment and sports services, skincare, supplements, personal trainers, and many more.
This is a massively growing industry that is very attractive in size and profit. Getting a high ROI on your affiliate marketing depends on the products and services offering high commission which is what you will find in most of the products and services within this niche.
Covid-19 has massively influenced work-life balance in the last two years. It has in many ways changed people's lifestyles when it comes to health and work. While it might affect other businesses, it has influenced the growth of the lifestyle and wellness niche.
It's definitely a niche to give a trial due to its size, growth rate and demand.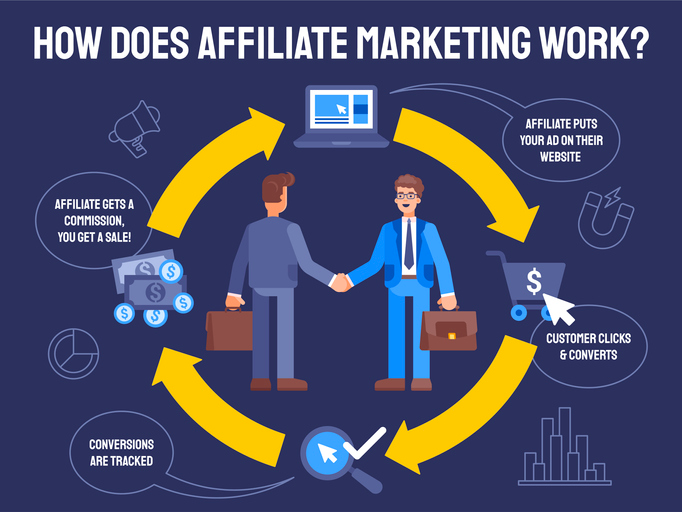 #2. Technology
We are in a digital era where technology has become part of our daily lives. Technology has made work and life very easy, fun and flexible.
Without it, most businesses can't cope and many people won't be able to live a fulfilled life.
Products related to technology include digital streaming, digital downloads, video games, business software, mobile technologies, and many more.
There is a lot to promote here in this affiliate marketing niche.
In figures, It is estimated that this industry will reach over $2.5 trillion dollars by the end of 2025. This makes it a very attractive industry to be promoting. Most of the products and services within this niche have good commissions and trust your audience will be willing to buy.
#3. Personal Finance
People care about their personal finances now more than ever.
Personal finance delivers financial services to consumers, especially in competition with traditional banking.
It's expected to grow at a 20% compound annual growth rate over the next five years, reaching over $300 billion by 2025. Globally, affiliate marketing in the financial technology sector had an estimated value of $18 billion by 2025.
The global financial sector is expected to be worth US$26.5 trillion in 2022 with a CAGR of 6%. This is huge and presents an opportunity for affiliate marketers to earn more considering the size and potential growth.
Another great benefit of this industry is the commission rate most of those financial companies of banks offer. It makes it easy to make a lot of money faster by promoting personal finance products and services.
#4. Pet Care
In 2020, pet industry sales surpass $100 billion for the first time. It's considered to be the fastest-growing in countries like the US and Canada with an average of 9% per annum.
The pet care industry includes speciality pet foods, grooming products, therapy pets, pet clothing, service dogs, and more.
We all know how much people care about their pets and how much they are willing to spend on their pets.
Promoting pet care affiliate offers gives you a great opportunity to make a lot of money if you are doing the right thing.
Though there are so many affiliate niches you can give a try, You can choose among many other affiliate marketing niches listed in authority hacker.
Choosing Affiliate Networks
Affiliate networks act as an intermediary between you (affiliate marketers) and the traders (companies that want to sell their products or services).
For merchants, they provide their platform as a service to list their products, track affiliate traffic, manage affiliates and send payments.
For affiliate marketers, they provide an easy-to-use platform to search for products, register as an affiliate, and track campaign performance and earnings.
Below you will find some of the most popular affiliate networks that you can join.
ShareASale – One of the largest affiliate networks with many paid affiliate products for almost every category imaginable. The popular WordPress hosting company, WPEngine, uses ShareASale to manage its affiliates for example.
CJ Affiliate – Another major affiliate network with a huge number of merchants and products well organized into categories and easily searchable. Companies like GoDaddy, Expedia and many others use CJ.
ClickBank – This is a great online marketplace for selling digital products in various categories from different vendors. It is easy to use and has tons of learning resources for new affiliate resellers.
Amazon Associates – Amazon is the largest e-commerce store in the world with millions of products. You can sign up for their affiliate program and start earning money by sending people to a website they already use for their online purchases.
promoting your affiliate offers
Promoting your affiliate offers is all about getting the right audience to buy those products or services. It involves getting the right type of traffic to promote your offers in order to make money as an affiliate.
This is where affiliate traffic sources come in, basically the place you need to promote your offers both through paid traffic sources and free traffic sources.
Let's dive deep into those traffic sources.
Affiliate traffic sources
There are countless affiliate marketing traffic sources to generate both free and paid affiliate traffic.
Since have written a well-detailed post about affiliate marketing traffic sources, I will be brief with the list of paid traffic and unpaid traffic sources below here.
Paid traffic is all the traffic we get from advertising sources that we are willing to pay for. In the field of web marketing, we use the internet as a means to show our promotional messages to potential consumers.
Types of paid traffic sources for affiliate marketingDisplay Advertising;
#1. Social Media Advertising: This is a way of buying ads on social media websites such as Facebook, Instagram, Twitter, TikTok and more to promote your affiliate offers.
#2. Search Engine Marketing (SEM): Many affiliate marketers testify that buying traffic or advertising on search engines such as Google brings them more ROI on their offers. It's simply a way of advertising on search engines such as Google and Bing.
#3. Native Advertising: Another great form of online advertising. This is actually one of the best-paid traffic sources for affiliate marketing. In this case, you write great content about your offers and promote those content using native advertising.
#4. Video Advertising: You can actually create videos about your offers and make a lot from it promoting your offers. Many marketers have seen massive ROI with videos. Use channels such as YouTube to make money promoting your affiliate offers.
Types of Free traffic sources for affiliate marketing
#1. Blogging: This is actually the best free traffic source to promote your offers. Blogging involves writing quality content by search engine standards to be able to rank higher and get massive free quality traffic.
It takes a little as doing keywords research and creating great content to promote your offers. Here you have a complete guide to start blogging
#2. Video marketing:Another great way to promote your offers for free online. This is actually one of the best free traffic sources for affiliate marketing. In this case, you write great content about your offers, get people to watch it and make the buying decisions.
#3. Social media Marketing: One of the major sources of free traffic online nowadays. billions of people spend a reasonable of time on social media. This presents a great opportunity to get their attention to your offers for free.
Through social media marketing, you will be able to generate a lot of leads that will increase your conversion rate. Use social media to your advantage by driving free traffic to your affiliate offers.
#4. Email Marketing: It's not a joke when marketers say email marketing is very effective. Email marketing gives you the opportunity to reach out to your prospect several times. You will have to use it cautiously and strategically to get the required results.
Conclusions
This is basic but very important information you need to actually make money with your affiliate marketing. Basically, you need to figure out the right niche and what you would really like to work with. This will motivate you to work consistently.
It is advisable to use multiple affiliate networks in the beginning, to see which really work for you better. Choosing the right affiliate marketing network will have a massive impact on your income. Choose wisely.
When it comes to promoting your affiliate offers, you have a lot of traffic sources to use. It all depends on you if you want to spend money buying traffic or use free traffic sources to promote your offers.
In any case, it will take hard work and dedication to get the required result. One thing remains for sure that you can be able to make over $7,000 per month doing affiliate marketing.
Let us know your thought and experience in the comment section.