DIscussion about Advertising online can never be complete if Facebook and Instagram the two world's biggest social media platforms are not mentioned.
Facebook and Instagram Ads are not just popular but very effective as well when managed as supposed.
As per the number of users, the two social media giants have combined users numbering 3.7 billion worldwide, this has now turned into a marketplace for millions of marketers seeking a bigger outreach for their businesses every now and then.
The platforms are owned by Mark Zuckerberg and are interlinked in many ways.
These marketing channels provide businesses with adverting features to display their goods and services on different and favourable features.
These features come with different formats in favour of businesses if properly utilized.
Before advertising on Facebook and Instagram make sure you understand ad formats, ad objectives, and the right targeting options to get a good result in the end.
These ads have unlimited benefits and are still shown to have taken millions of businesses from local to international brands.
Now understanding these platforms and how to engage users on both is a great way to start the journey of business growth.
So let's look at the benefits of Facebook and Instagram Ads
Benefits of Facebook and Instagram Ads
First, let's start with Facebook Ads
Benefits of Advertising on Facebook
Facebook is the biggest social media platform with more users than any other, it has billions of views daily across the globe with different demographics.
Below is the benefit of advertising on Facebook.
#1. Most popular used social platform worldwide
Facebook alone has over 2.7 billion active users globally which is higher than any other platform, this makes it a global community for advertising.
#2. All ages grades and gender use Facebook
Data shows that 51% of Facebook users are between the age of 13-17years, 79% are 18-29-year-olds, 79% of 30-49-year-olds, 68% of 50-64-year-olds, and 46% of 65+-year-olds use Facebook, covering the best demography for businesses.
#3. Facebook allows B2B and B2C businesses
This makes Facebook the best option for advertising because it allows you to reach all kinds of audiences you need for your business.
B2B is a transaction between two businesses (business to business) while B2C is a process of a business selling its products to consumers (business to consumers).
#4. The most visited social media platform
About 74% of Facebook users access the platform at least once daily, this has given it an edge over others as it allows your ads to be seen and possibly engaged by its daily active users.
#5. Range of effective ad features
Facebook offers different kinds of ads that have different formats which can help you reach a variety of audiences with different behaviours based on how you target your ads.
#5. Facebook manager
This Facebook feature allows you to set your targeted audience and see the data of your Facebook ads performance.
Benefits of Instagram Advertising
Understanding the benefit of Instagram advertising is profitable knowledge for your business brand.
Instagram has numerous advertising features just like Facebook and many business owners prefer to use it due to its fast-growing traffic and trends.
Below are some benefits of advertising on Instagram
#1. The Instagram in-app purchase feature
Statistics have revealed that one-third of the platform users make buy goods directly from ads displayed on the site this ad can be engaged with on the Instagram app without being redirected outside the app.
#2. Great organic functionality
Instagram provides you with the perfect opportunity to build your brand organically. You can make people start following you and also create awareness about your brand on the platform without spending anything.
If you get it right, you can grow your followers with referrals which can help to increase ad conversions.
#3. Better at engaging audiences
Instagram is a visual platform so it helps to drive more engagements.
If you have a lot of visual content to share, Instagram is the best platform for you.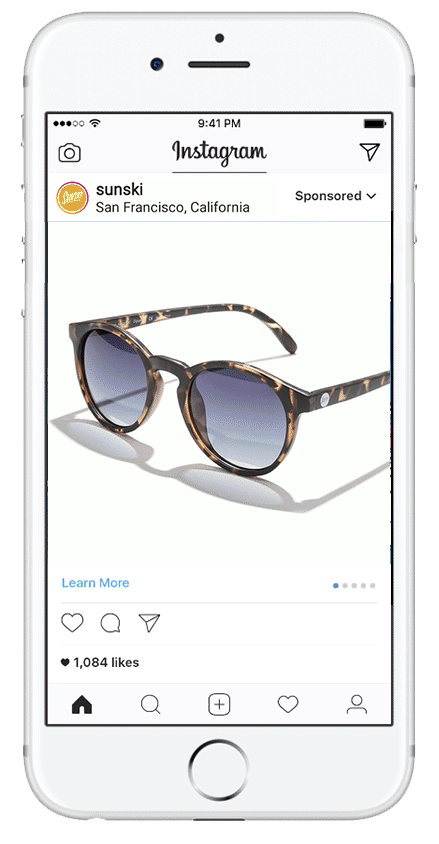 Should You Run Ads on Facebook or Instagram?
People want to know whether Advertising on Facebook or Instagram brings result
Let me say this for clarity, both Facebook and Instagram ads gives result for your business if properly placed.
But this has to do with your kind of brand, content, and target audience.
Now the best option for anyone who has a low budget is to choose Facebook which has more people to view them, understand where your target audiences are found, and their behaviour.
Factors for choosing the right ad platform for your business
Ad Management
Facebook and Instagram are interlinked and you can use the Facebook Ads manager to set up your ads campaigns for both platforms.
With Facebook ads manager you can still reach the goals of your ad, it provides you with the objectives, ad setting option, and audience to choose and run your campaigns for both platforms.
You can test run your ads and see a preview with the Facebook ads manager and this gives you an overview of how your ads display on either or both channels.
On the other hand, Instagram ad manager is pretty easy to set up, and you can boost existing posts or new stories.
For ads, data management Instagram ads manager is the best for you to start with, and understand how ads manager work, it has some features related to that of Facebook ads manager.
Content
The basic difference between Facebook and Instagram is their content features and the behaviour of users on the platforms.
Facebook ads have the following ads types
Carousel ads: these kinds of ads are scrollable images or videos on Facebook
Single media: it consists of an image, video, or slideshow of images
Existing posts: this includes any content posted before your ads campaigns, it can be links, images, or videos already shared on your profile in the past.
Instagram has these same ads features but it doesn't allow links in their features, so it is at the back of your mind that if you are pacing Instagram ads and your want to include a link, you have to add up a call to action button like purchase, sign up, etc to supplement the links you with to user, then you can embed a link beneath your call to action button.
Now to get the best result for your ads either on Facebook or Instagram, you should be able to determine your ad's intention and select the best platform for it.
Facebook allows the use of links, journals, images, and videos for information and interactive purposes.
This kind of content gives better conversions on the platform, users also will utilize them better on Facebook than on Instagram, so it is better to know a few facts before embarking on your campaigns.
On the other hand, Instagram is more visual-oriented so ads that have to do with links should be considered for Facebook.
Instagram ads should be for videos contents to get the best engagement and conversion.
Determine Your Goals
Goals help you to determine the success of your campaigns based on the results or Return on Investment (ROI) you're looking to achieve. Ad Manager makes you reach goals for your campaign easily.
It allows you to choose the right objective from its options, this includes everything from generating brand awareness to driving website traffic or conversions.
Facebook's Ad Manager manages ads on Facebook and Instagram but not all of the options are available on Instagram so you'll have to consider what you want to achieve before launching your campaign.
The Industry
When you want to run an ads campaign on either Facebook or Instagram, you should understand the industry your business is under so that you can know the platform to use for your ads for better results.
Products such as food, fashion, and consumer products tend to perform beautifully well on Instagram while blog links are better marketable on Facebook and the likes.
Also note that the kind of products you want to advertise determines the amount of money you will be paying, so to have a breakthrough with your ads you will have to spend more on competitive goods.
The Target Audience
Facebook has more audience than Instagram, there are more active men between the ages of 25 and-34-year-old on Facebook, this is to say if you are to run ads campaigns that have male-related products then Facebook should be your number one choice platform.
Not just that, Facebook has a greater number of age groups actively involved than Instagram but not all products will give you a good result when you advertise there.
On the other hand, statistics show that both men and women use the Instagram platform, but the gender that is most active on Instagram are women of ages 18-24-year-olds and 25-35-year-olds and making it better for advertising female related brands or goods.
But for younger audiences (e.g Generation Z and Millennial group), will best result in the growth of your business than Facebook.
Age
To get an age-related campaign to engage your campaign, note that older people can be gotten more on Facebook, but in a situation where you want to target a younger audience, Instagram campaigns will give you a better result.
Type of Ads
There are varieties of ad campaigns you can run on Facebook and Instagram, some of them are similar to each other but the main idea is knowing which channel is right for your business.
Below are the types of ads you can set up on Facebook namely;
Video ads
Collection ads
Carousel ads
Slideshow ads
Image ads
Facebook instant experiences/canvas ads
Post engagement ads
Event response ads
Page likes
Offer ads
Poll ads
Collective ads etc
Below are the Instagram Ad types of ads you can set up on Instagram namely;
Photo ads
Video ads
Carousel ads
Stories ads
Explore ads
Collective ads
Conclusion
To have the best ad campaign on Facebook or Instagram depends on factors like your industry's brand, target audience, age, gender, budget, and goals it is worth understanding which of the platforms you can use to get the best results for your business.
After reading this post I believe you should understand which of them best suits your business brands.