Facebook may be the most popular social media platform but, Instagram ads are steadily gaining their own foothold as a successful, lead-converting option for businesses.
Social paid ads are the best way of advertising anyone hungry to get outreach and lead should consider, it brings outbound marketing plus growth strategy, taking about Instagram ads, it produces more of the right results than even any social media platform with its magnificent features and ad types.
In the past, Instagram was snubbed because Instagram ads were not yielding the expected results.
Many businesses and companies neglected Instagram ads in the past because of their inability to generate organic followers and outbound marketing.
Now not to be underrated, Instagram ads have become the cornerstone of advertising in the present day. The story changed after the platform was acquired by social media giant Facebook.
Currently, Instagram is standing tall in the advertising game and it is a better advertising platform than even Facebook.
To get an exceptional ads experience, you have the liberty to run Instagram ads allowing them to also display even on Facebook.
The Instagram platform has become quite attractive for digital marketers and this offers them numerous benefits, with Instagram alone a user can display ads on several features and get a lot of outreach and there's also this simple fact about Instagram ads, they just look better and appear impromptu on some of it newly included features.
Instagram Ads Best Benefits
#1. Instagram ads have seamlessly integrated features: The impromptu and seamless display of Instagram ads makes it the best platform for digital marketing, this is because it is very difficult to tell immediately which posts on Instagram is an ad and which are not, making it more liable for users to engage your ads and that also boost ad conversion.
#2. Most Instagram ads open up links and remain in-app: Most Instagram threads ads display in-app on Instagram when you click on the call-to-action button on the ads you are not redirected outside Instagram, you interact within with the ads in-app on Instagram and go back to your social feeds without losing the feed. Potentially, Instagram ads do not really disturb a user's feed after interacting with them.
These ads get a better outreach because of their ability to display on many Instagram features e.g. feeds, explore, reels, stories, etc. thereby giving you more reach based on different users' behaviours.
Another included feature to help engagers interact with these ads is, MobileMonkey's super cool take on Instagram DM Drip campaigns! this particular feature is an automated instal DM bot.
Below are the Instagram ads types;
Instagram ads are set up similarly to Facebook ads, primarily because Facebook owns Instagram. That means you can benefit from the same microtargeting qualities of Facebook, while also benefiting from Instagram's increased engagement and seamless native ads types.
Let's take a look at the six (6) major types of Instagram ads and their possible best practices:
Instagram Photo Ads
Instagram Video Ads
Instagram Collection and Shopping Ads
Instagram Explore Ads
Instagram Carousel Ads
#1. Instagram Photo Ads
The basic idea of Instagram ads is to display sponsored visuals on the social media site, it could be images or videos, or both.
To get an outstanding Instagram ads campaign, you have to deploy creative and fascinating photos to attract views and engagements.
Creative photos can tell a whole story just with one photo.
Instagram photo ads are published along with captions and an action button since only the photo can not explain the entire story you may want.
They also contain a call to action button to sign up, install, call, etc, you can allow your users to explore more about your company, products, and services as the case may be.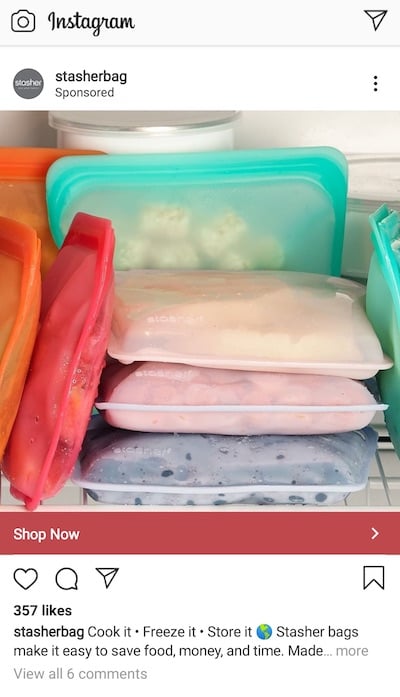 #2. Instagram Video Ads
Instagram video ads give a more detailed explanation of products, it contains audio, images, and text explanation.
Videos do a better job of engaging your audience, they engage viewers and display automatically in feeds or anywhere they are defined to display.
They are just like photos ads but display with sounds and other explained features as edited by the publisher.
Instagram video ads contain more details concerning a given product and how to go about them which gives you the opportunity to enlighten your viewers more in the visual, this can fascinate a better conversion rate.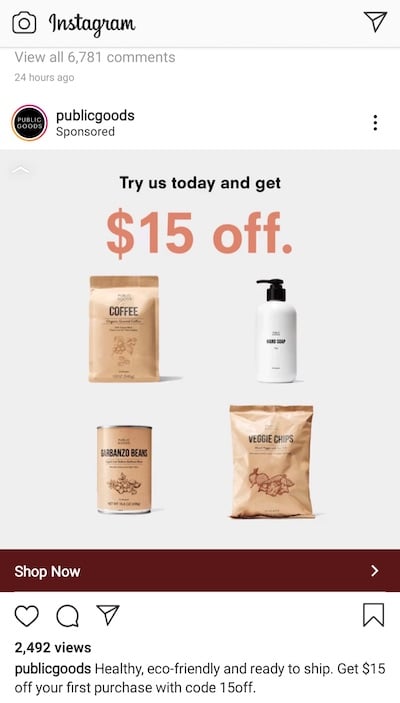 #3. Instagram Collection and Shopping Ads
Instagram collection and shopping ads best serve call-action and e-commerce campaigns.
These ads preview as photos or videos, they can allow a user to click on them where they can explore more about the company and the products, when you engage them, you are redirected to either websites or catalogs depending on how they are setup.
You are still within the Instagram site and when you click on the return button, you are returned to your Instagram social feed without losing your feeds.
Shopping ads should have a catalog and information about the product such that once viewers engage them they should be able to get information on the product on display and also be able to shop from the catalog.
Instagram Collection and Shopping Ads have similar display features
But to get better conversion of these ads, fill in all the catalog information and update them with the latest information and product to be able to give your ads a good returning action.
Make sure you keep your ad's promise for effective campaigns.
If you have shoes for example on your ads make sure the exact product is available in your catalog to let users purchase them readily.
Instagram Collection ads look just like traditional Instagram photo posts till you take a closer look at them.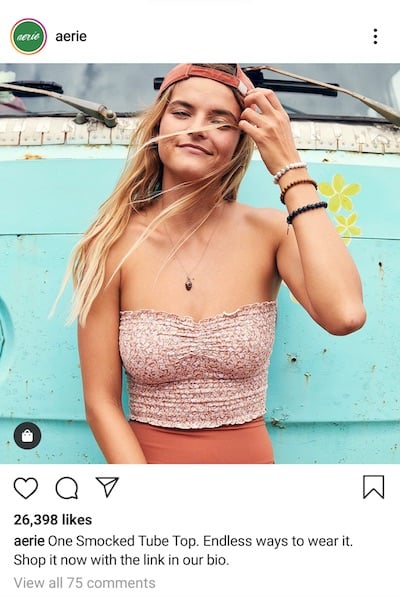 Below is how Instagram Collection and Shopping Ads look when you click on them.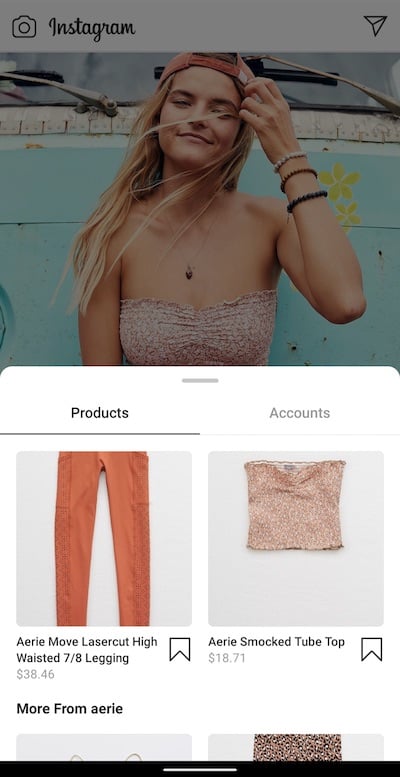 #4. Instagram Explore Ads
Instagram Explore ads show up when a user taps on the explore button on Instagram, during placing of these ads, make sure you instruct your ads manager to show them up in the Explore section of the platform.
According to Instagram, ads are displayed to users based on particular behaviors, when they search for new products on Instagram, explore ads also appear in form of videos or images.
Over 50% of Instagram users tap the explore button and up to 80% of Instagram users follow businesses so it is a great type of ad that helps you reach a good audience.
It also has a call to action feature e.g sign up, buy, etc.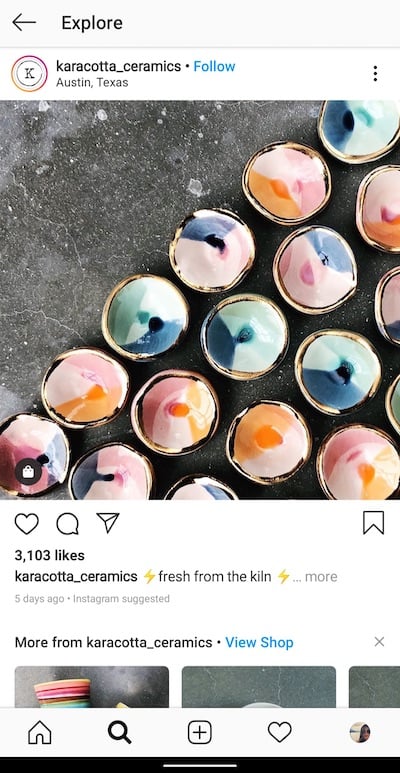 #5. Instagram Carousel Ads
It became a whole new deal when Instagram introduced Carousel ads, these ads allow a user to upload more than one picture on the carousel ads preview page.
It allows you to tell more details about your products in a sweep through the array manner, users can use the opportunity to advertiser more information ranging from latest services, prices, specification, and other related information about your company or products.
Instagram Carousel ads allow the display of both videos and/or images all in one display.
#6. Instagram Story Ads
These types of ads display in a vertical format only on the Instagram story feature, they pop up inform of videos, images, or write-ups depending on how the users want their campaign to show.
According to Instagram, over 300 million Instagram users on the platform view Instagram Stories every day, that is to say, getting a good number of impression counts and engagements is high when you display an Instagram ads campaign.
Story ads display impromptu to users and due to this nature bring more engagement.
Here is a GIPHY display of Instagram Story Ads
Below is a carousel Instagram Ad from Blue Apron:
How To Optimize Instagram Ads
To get the optimum Instagram ads campaign, you need to have the following questions in mind
Is My Product Right for Instagram?
How do I get Optimizing Instagram Ads to Work for You
How do I start an Instagram Ads and Strategic Growth
Starting an Instagram ads campaign is very easy but, what will I do to make my campaign get an optimum result?
Always know that before you place your ads, you will have to know what is the best practice that will yield results before embarking on the campaign.
Traditional Story Ads
Traditional Instagram Stories ads display just like normal story ads
Story ads display on full screen when being in form of photos or video with a call to action button that allows users to link your profile, website, or products.
The photo below is a perfect example of Instagram's traditional ads.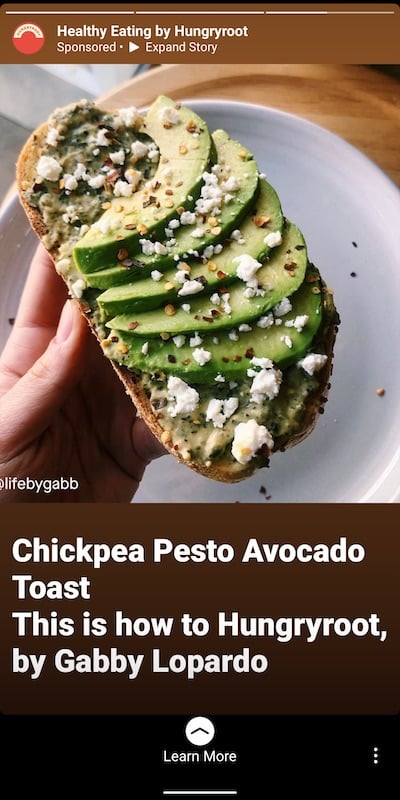 Canvas Story Ads – AKA Instant Experiences
To display awesome images or video ads you need to employ Facebook Instant Experiences for best practice and optimization.
Or just in case you place your story ads and it is not really bringing the expected results, just involve an Instant Experience placing system to have a better viewers experience for the campaign.
Facebook and Instagram Ads are interlinked such that to get the best templates and fascinating ads users have to employ instant experience for exceptional display.
With it, you can get the best editing tools for your images and videos
These ads deliver immersive videos and they give room for tags.
An example of ads done with instant experience is shown below.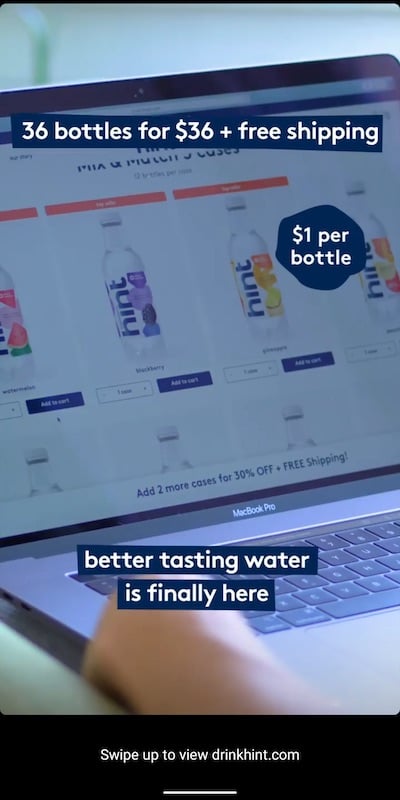 Instant Experience Ads' expanded functions allow them to include text, tags, call out specific benefits, and a swipe-up option that takes the visitor directly to your website.
You can also use Instant Experience ads for your Facebook account, or in Instagram feed placement, but many marketers have seen the best results in Instagram stories.
To create a truly effective ad, your digital marketing agency will develop immersive content that is customized to fit Instagram, and optimize for a seamless, quick-loading experience that's sure to drive traffic and conversions.
What Product is Right for Instagram?
This question should be on the mind of everyone who wants to run Instagram ads, because not every product is right for Instagram, this is further explained as, ads do better when you target people from ages 45 to 50, you're likely to get better results with your Instagram ads.
If you are not sure of how this works you can consult your digital marketing expert for some advice.
A digital marketer will help you figure out the best audience to target your ads and identify the best marketing strategy for your business.
Meanwhile below are some tips to help your identity run a successful Instagram campaign.
Design attractive photos and/or videos.
Talking about a good Instagram shtick, it just has to be quality visuals, they bring more engagement because users tend to be more attracted to videos and images with good looks.
To have a good engagement on your Instagram ads, you must create contents that will make viewers not skip your work just a few seconds into watch time, and add intriguing and fascinating videos to make your followers interact without getting bored.
Your information must be Authentic
The majority of Instagram users are millennials and younger generations, due to their Instagram profiles and behaviour.
Abiding by Instagram ad's best practices helps you to tell a good story, improve your brand's legacy, and bring to you potential limit breaking clients.
To establish a long-lasting legacy about your products or brands with Instagram ads you have to create a lasting good impression by authenticating your ads with the advert promise.
Instagram Ads and Strategic Growth
When you place any type of Instagram ad either inform of (image or video), you will be able to identify which are working best for your targeted audience.
You should be able to get the best possible Instagram campaigns subsequently and get better leads, to be able to get more returns for your brand and target better demographics for a better experience.
Apart from Facebook ads, no ads compare to Instagram advertising, it has better advertising types and features than any other platform.
This lives a user with more ads options to choose from and possibly ease the work with the ads manager to get the best out of their Instagram ads.
If your Instagram ads don't yield results in the first campaigns, the essence is to keep the experience in mind and improve in your subsequent campaigns.