Google ads may be frustrating at times due to some circumstances which arise from different reasons in users' accounts, now how do we proffer a lasting this to these ads missing from the display result?
The bigger headache will not be if you do not see the ads display on the Google index, it will be when they are not available on the Ad preview tool.
When your ads do not show up on the ads search tool this should be your major concern and how to fix this issue is what this article will be discussing in detail shortly.
Well, you do not need to bother much as we are going alight several issues that cause the ability of your Google ads display.
These reasons are divided into two categories to help your get over them better we have performance-related and non-performance-related issues associated with the ads.
When you identify your problems it is easier to solve them and that's not a guess.
The way anyone can get the best way out of your challenges, Google ads grader runner is a free tool for auditing your Ads Performance, it has personalized and give instantaneous results for your experience.
Why my Google ads are not displaying: Non-performance issues
Non-performance issues." You might have done everything you are supposed to do to make your ads display on the search result, with all the best practices you might have put in place, the fault might not be from ads quality, landing page, ad groups, catalog, and the likes.
Well, this is not the only issue relating to your ad's inability to visualize, there are several other related factors that can affect this,
Below are the best know issues relating to your ad's inability to show among the ranks.
#1. If payment is declined
When you pay for your business on Google ads there are two ways you can encounter payment issues that will hinder your ads from displaying, it is either
You have hit the pre-set payment threshold or
You have reached your current billing period.
This issue may arise if your auto-renewal billing address expires or your linked bank details have insufficient funds to update your ads payment renewal.
Because no matter how many times you patronize this very Google service, you will always be charged before being offered the service. Take note of your payment details before lodging complaints regarding ad display issues.
#2. Too high or too low biding
When your keywords' daily budget limit exceeds your monthly budget then obviously there is no correlation and Google tends to place your ads campaign on hold to make sure you put on a proper account setting, your CPC expenditure should be fractioned to align with your CPC bid for every keyword.
This should be a major concern for all advertisers, when your keywords are bidding settings do not go parallel your ads will not display on search queries.
Set and bid high for ads to be able to rank among the hierarchy during an auction on the keyword relating to yours.
When you explore your Google ads account, you will see the settings to create your ads bidding and become favorable with your keyword on the search engine due to your financial impact and of course your score.

#3. Keyword search volume is too low
Your ads will have no impact if the keywords you are bidding on have low or no monthly search volume, this is one of the potential factors that'll stop your Google ads from displaying.
Understand that if Google notices low-impact keywords search volume, it may temporarily deactivate your ads till meaningful traffics for them begins to show, and it will automatically come back live on a search query result.
Tip: always bid for keywords with reasonable traffic so that your ads won't have a break in the display.
#4. Why have Google ads will be paused, removed, or disapproved
It is shocking but true that your Google ads will be paused or disapproved for any reason which might have made your campaign stop, do not worry if any of this happens to understand that there could be a few facts that might have caused it, it may be your ad groups or the host of you campaign been paused.
If this is the case then simply check the setting and resume your campaign.
But if your ads have been removed then this will prompt you to begin the campaign all over again.
The pause and resume function of your ads is found under the Change History menu of your account, it will even be easier if your filter your account to have easy access to your most-used functions.
Disapproval of your ads campaigns might have been due to the fact that you have violated Google ads campaign policy.
You can get a better solution by reading all the rules and regulations concerning different ads on the Google website and having a clear understanding of what is required of you.
#5. There's a scheduling or targeting mistake
Ads scheduling is simply explained as the intervals you want your ads to show, for instance, if you run a business that closes at some hours of the day like a restaurant that closes by 9:00 p.m you may schedule your ads to be live only during working hours because it may be Just irrelevant and wasting of money to allow your ads to run when your business is not available to offer service or products.
You can schedule your ads to display hourly, on certain days, and weeks in the setting tap of your ads.
The Ad Schedule menu controls this work and makes sure your ads campaigns are narrowly targeted.
#6. Narrow targeting
This is when your keywords are targeted to a smaller audience, this will not be right for any campaign, know where the best audience for your business is coming from, and targeting beneficial bigger audience parameters for your campaign will save you the stress of your ads been paused, the more people search on your keyword the more your traffic and it that keeps your ads relevant for when search.
#7. Negative keywords
Prevent your ads from ranking making them irrelevant on queries, this is because they may not match any search result despite your trends, and this can limit you at the group and campaign level.
For example Ads like this,'' LG latest pouch" are negative phrases keywords and when you bid on such matching keywords, you are considered to have bided on a Negative match with this campaign and your ads may not rank.
The important thing to note here is that to adjust these keywords to give you the best result you have to bid on an "LG pouch" keyword" which is more organized than the formal one.
This will shorten the search and provide your customers with the exact keywords to utilize.
#8. Large negative bid adjustments.
Precise keywords are the best way to move your struggling ads strive in many cases, before your ads display without hindrance, you have to arrange the negative bid keywords in order not to diminish your ad's rank.
This is worth noting because if you bid on large negative keywords that are not properly adjusted, it will automatically decrease your ranking, with that know the best campaign in every location, device type, time of day, location audience behavior, etc.
Ads that use stimulated bids columns actually perform better in any case and always maintain the best practices.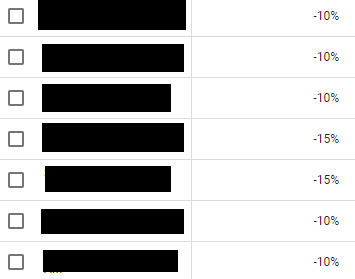 Google ads not showing: Performance issues
There are a lot more involved in Google ads' effective display that you should know sometimes, you may notice that your Google ads are not displaying, this may be as a result of the negligence of not involving the best practices and low PPC standards.
To have an optimum performing ad campaign, Google ads users have to adjust to the best possible practices and know the right keyword to use and your audience
It is a tedious process trying to correct keywords so my best advice for you with your campaigns is to start with the best practices as much as possible.
#9. Your ad group isn't focus
There are two components that make up a Google ads campaign and understanding how to adjust and use them both will be of great help to your campaign.
These components are related and the benefits of each of them cannot be overemphasized, and that is why Google incorporates them into your practices.
Every ad group consists of keywords and ads and these are the results that Google display to users after a search relating to them is triggered.
The display of ads comes to play when there is demand for certain keywords through search results on Google SERP, it previews these ad keywords for users after they query.
To be considered for this auction with your keywords, employ the best practices as outlined by Google and leave the rest because they are the only one that knows the best way to select your ad auction and preview them to users.
To remain favorable on this Google search index, you will need a good score and a reasonable bid for your campaign.
We all know the essence of Google ads campaigns for our business, conversion from our campaigns can be the bearing of your business.
It brings an online presence to your business doorstep, so the question now is how do you remain relevant with these keywords? There is a way to do this, simply create an ad group of related keywords which bring relevance to those key worlds when someone searches them.
It does end with relevance you also have to employ a good ads structure for keywords groups, inability to arrange closely related keywords in your ads group may hinder them from performing optimally.
Make available a reasonable bid to contest favorably under your niche category.
#10. Non-optimized ads copy
A lot of other factors constitute your ad's relevance, and if by any chance ads stop displaying, it's equally important that you optimize your ad copy.
Ads optimization can be done when you join together your closely related keywords with your ad copy and point it directly to your search queries to heighten your engagements.
To have a working ads system, you need to follow a professional guide and broaden your knowledge about ads. Meanwhile when you also harmonize your related keywords and ad copy to remain relevant.
So understand that if your ad copy is not forwarding enough signals to your queries, your ads won't show, and also write keywords that will be compatible with others in the same group.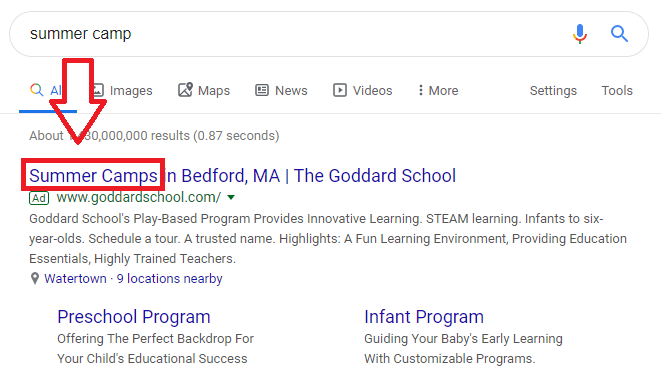 #11. Your landing page isn't relevant
Before you embark on any campaign, make sure you put yourself in the shoes of your consumers and understand their behavior. provide landing pages that will be problem-solving and not vogue spaces that are not keeping your ad's promise. To cut the whole story short, provide target keywords in your landing page copy.
#12. Your click-through rate is too low
A lot of factors constitute why your ads will not show on the paid search results another one is the absence of click-through rate CTR.
Gaining relevance is because your campaign has started getting quality CTR.
The rewards advertisers get when their ads resonate with users are incomparable, optimized-performing Google ads give a higher percentage of CTR in your campaign, and quality CTR gives your ads an edge closer to greatness.
Complete ads are those which are giving you high CTR and at the same time satisfy your consumers simultaneously. When your ads are problem-solving that means they are serving their purpose. In a situation where your ads are not showing, use the ads preview and diagnosis tool to search for them.

#13. Ads under review
Google reserves the right to retrieve your ads and possibly revert them, this is done just to make sure that your ads are performing under the google policy frame, it brings stability to their ads operation system and restricts violated campaigns.
#14. Verify active ads
When you search for your ads after your campaign was approved and you do not see them, search again with the same keywords or topics because Google tends to hide ads that are searched and ignored, this is to save advertisers costs because they think you found the ads irrelevant and they tend to safe the advertiser money with an automated hide feature.
#15. Error messages
Your ads may not display and you might have been notified by Google via emails why it is so, when your ads are under preview, before they are finally been launched to be visible on queries, you will be notified if they have been successfully placed or not, so check your inboxes for verification what google reply was about your application and see the reasons too.
Conclusion
When it comes to your notice that all your time and cash investment into ads is still are not been utilized when triggered by users, it becomes disturbing despite knowing that you have employed all the best practices.
Well, i believe that with this context you and tell why your ads may possibly not display.
It doesn't end with displaying on the search queries alone, this also has to rank and should be able to give you the end product which is the conversion that earns your intention profit on the respective landing page.
From the list above you should now understand why you are getting low performance or missing from the display results of your supposed ads on search and their respective solutions.