Every sensible business owner will want to know much Google Ads cost to have the knowledge of how much they will get a return for quality return for advertising their skill.
Well, this has become a major concern over the years from intended and existing product creators and the likes from different niches in various industries.
There is no definite answer to the question of how much Google ads cost, it basically has to deal with some specific factors such as your industry, general knowledge of customer lifecycle, current trends, and the ability to manage your account.
It is not easy to point out exactly what the cost is, all answers are pointing towards a particular angle which is the experience, and not a precise answer.
Furthermore, in this article, I will enlighten all readers on the best possible budgets and all it takes to achieve the best possible Google Ads pricing and set the best budget for your different businesses in their various industries.
Factors That Determine Google Ads Cost
When you understand the factors that determine Google Ads pricing half of your problem is solved concerning advertising with this giant.
Below are the basic factors responsible for Google Adsense pricing for all business types.
Industry Competition
Customer lifecycle
Current trends
Adsense account management.
Some of the terms relating to Google ads expenditure include:
Budget: this is the total amount an advertiser avail for his Google Ads expenses.
Bid: This is the total maximum amount an advertiser is willing to pay for each click on their ad.
Spend: This is the fraction of your budget charged when your ad participates in an auction.
Cost: this is the cost amount you are charged when someone clicks on your Google ad.
Industry Competition
The major factor that influences your pricing is the industry under which your business falls, definitely competitive keywords cost higher than less competitive ones, and this can be related more to the business services vertical.
Business service vertical is the cost for a business niche and how it influences the costs per click (CPC) of your ads.
For instance, services industry niche like real estate vertical take the bigger share of your ads budget, if the budget of your ads is $1,000 to $10,000 per month, then its CPC should be higher than twenty dollars because that amount is relatively small to pay for that service while, arts and entertainment vertical go with lower CPCs, this is because they need to get a bigger reach to exhaust their budget of $1,000 to $10,000, so its average CPC should be maybe less than $1.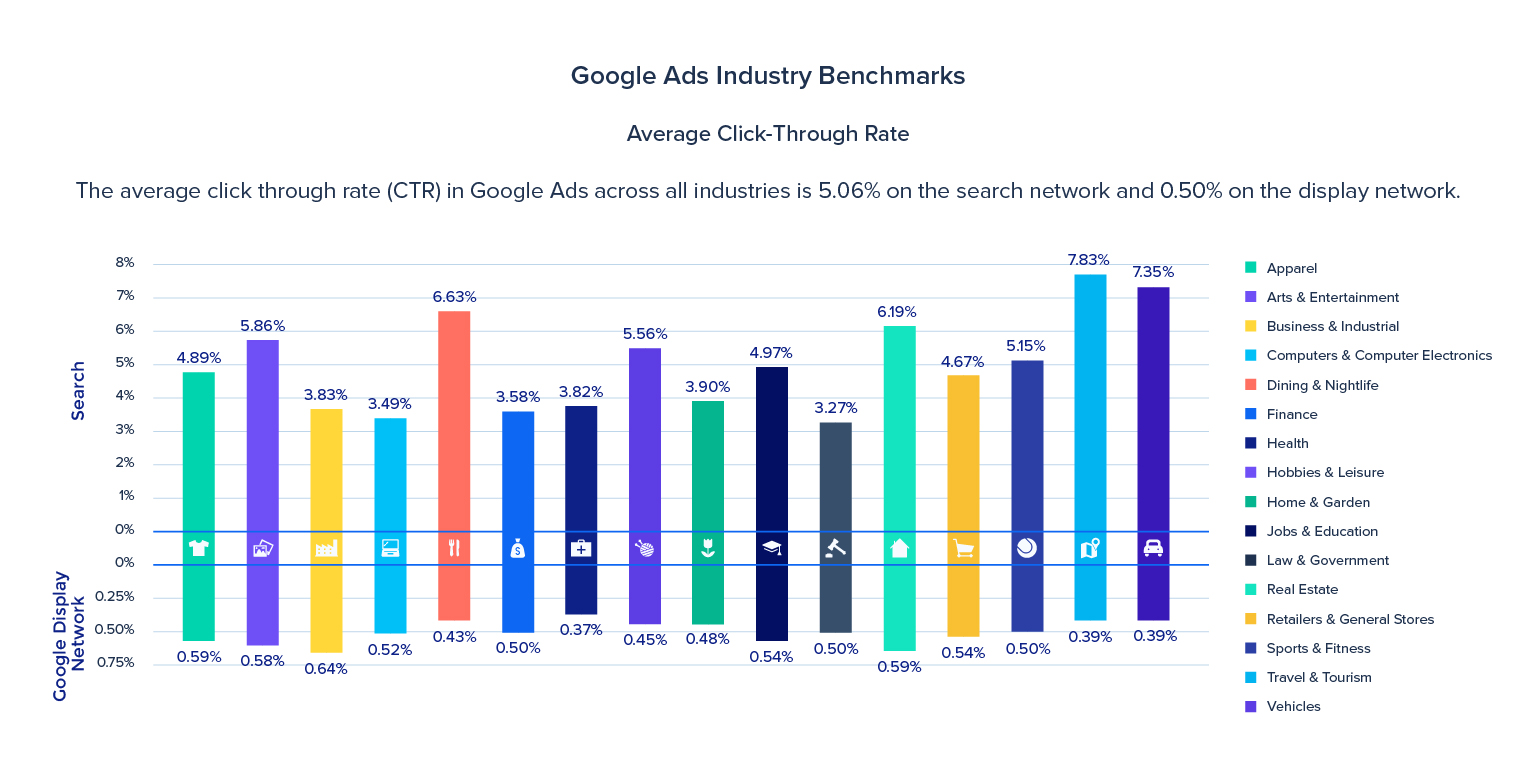 Current trends
The average CPC for all involved bodies i.e. consumers and advertisers are ever-changing base on trends in various industries, making average earnings change with time for each of them, so for better performance, you have to understand and follow these trends closely.
Trends change seasonal base on prevailing situations, for instance, some companies want to exhaust their budget before the year runs out, so towards the end of the year CPCs are high, another instance was high, during the coronavirus pandemic in 2020, the health niche average CPC was $1.40 during the lockdown, but it later went down to $0.70 during the peak of the lockdown in April same year, and has finally settled at $0.89.
That is to say, trends vary based on the industry and prevailing situations
Customer lifecycle
When you make things easier for your business by keeping it afloat and customers visit it regularly for solutions this may pay off in the long run from consistency, your business tends to ring a bell to users each time they search and you are suggested.
You may be the person that is right for them to patronize either by buying goods, downloads, or clicks which are necessary for your growth.
Account management
Managing your Google ads account properly is one of the paramount strategies to follow and get ROI for your expenditure, Google's recent publication reveals that an average ROI on Google Ads is 800%—a return of $8 for every $1 spent.
When you manage your Google ads account properly getting back returns for your investment is maximized, with the following key points worth noting;
Google Ads account structure setup
Track your performance and make data-driven optimizations.
Focus on your keyword
Timely account audits.
Targeted audience
Proper budgeting
Business service vertical
Best way to determine Google Ads cost per click for your business?
To have a success story on Google Ads pay bidders who are engaging with your ads, don't take only bidders into consideration other factors can also help your budget go a long way, this can be determined with the help of these outlined factors by your account automated functions such as;
#1. Quality Score
Google search results appear based on score rating, this content is suggested to a user when Google notices the advertiser's bids are unique and relevant to the keywords been searched, and that will give your business the space in a favourite spot for auction based on your keyword usefulness.
In other words, this score trick comes to play because Google assigns scores ranging from 1 to 10 and all ads and queries are sorted based on the scores of your ad according to the general history of your keyword CTR-(Click Through Rate) overtime and your landing page experience on its search engine.
#2. Ad Rank
Google Ad rank is masterminded by every contending ad's on the block, ranking of your google ads is given by the quality score multiplied by your maximum bid- this is the maximum amount of money avail by advertisers to Google to showcase their products to potential users. These ads are sorted and appear based on the amount you are willing to dispose of per click on your Ads.
#3. Cost per click CPC
No matter how much your ads rank, they cannot be complete with conversion, and that is where CPC comes to play, when your Google ads display after a query, you are charged only when someone clicks on the ad.
This payment is done with a calculative formula which is given by the (Ad Rank of the ad below yours divided by your Quality Score, plus one cent) this helps you maintain your daily spending on your ads.
This module allows advertisers to save their money by not paying the highest amount avail per click on the SERP helping low-budget advertisers to also remain favourable in the ads competition index.
Note: High-quality scores can lead to low CPC bringing back a better ROI for advertisers' expenditure.
Other variables in your ads that influence Google Ads cost are considered will be good to understand each fact that influences your expenses and how to manipulate them all for the best results, some other variables influence your Ad Rank on the Google SERP.
Apparently, your budget is spent not only on ads rank and quality of their score, several other factors come to play in influencing your Google ads costs.
Variables that influence Google ads cost
Below are the other variables that influence Google ads costs to include;
Landing page relevance and experience
Auction-time quality
The device, location, and context of users' searches
Alternative bidding methods
Alternative ad formats
Budgeting for Google Ads
Google Ads budgeting is a very important factor that determines how long you wish your ads to be seen in search queries.
It is a known fact that most ads budget may get exhausted before the required time but this is natural, due to the fact that, once your business ads appear in search and someone clicks on them of course you get a debit for each of those clicks which possibly turn to conversion, so it is not necessary Google ads been expensive it may actually cost you a better quicker service.
Daily average budgets
No matter the industry your ads fall under, Google requires you to set a limit for your daily spending for your ads.
This feature allows you to get a prior general knowledge from your account on what you are spending for these ads daily, it doesn't really mean your daily budget will be exhausted, of course, it may exceed and it may not, making your ads for each day limited based on your setting.
Spending limits
From the inception of Google ads, the spending limit was 20% or more than your daily average set budget but years later the organization updates us that they increased the expenditure from there to about 100% or even twice this is to allow users to know that there was also an increase in engagements made available for their businesses.
For example, if a user sets a spending limit for their ads to be $100 his/her daily spending for the ads should be $200 or more.
How to determine your average daily budget
Determining your average daily limit is simply done with a formula, which is given by your monthly budget multiplied by your current campaign divided by your budget per month.
Meanwhile your overall Google Ads budget – is calculated by the average cost per click of your keyword bid, it is gotten by the Google Keyword Planner or any other keyword research tool.
The importance of this daily average daily limit is, that it can provide users with a general overview of their budget per day, not just that you can also do the math by calculating different budgets so that you can see the daily average budget that suits your pocket at the same time and see what you will spend on a monthly basis.
Bidding
This is one of the factors that also determine the amount to be spent for a campaign; it is the total amount of money an advertiser is willing to pay per click on their ads.
So your bidding totally depends on your interest and financial capacity.
Below are some terms to consider as a bidder:
Your bid may be low depending on the fact that Google ads spending is determined by the quality of your score, of course, a high bid put your ads in front of the competition with other keywords available in your industry, so don't be carried away with other factors alone offer a reasonable bid to be able to come favourite on the hierarchy when your niche is been queried.
This bid can be set in two ways either manually or automatically.
When you bid manually, you use the maximum CPC for each keyword in an ad group, on the other hand when you set your bid automatically, you elaborate your keywords CPC, which still allows user to set their maximum spending limit and assures of benefits like maximizing clicks, target impression share, CPA, and ROAS.
Have this at the back of your mind that, Google may exhaust your daily spending limit for advanced clicks on your ads.
Other Factors for Google Ads costs
There are several other factors that can influence your good ads expenditure, just like other variables on the Google ads platform, which mediate CPC and the rest.
These factors can be a serving grace because they may reduce the amount you spend on bids generally.
Below are the factors that influence your Google Ads costs
Departing or Ads Scheduling
This term Ads Scheduling comes to play when you tend to specify when your Google ads should be visible to potential users, well to have this efficiently done, your Google ads will have to undergo a process called ads auctions and this will be the pending time till the moments you want this ad to go live for your intended customers.
How much do Google ads cost and schedule
Ads Scheduling is very important to people whose businesses close at specific times of the day, it will help you save costs except if you wish them to run your ads without a break notwithstanding your time of closure.
For an instant, if you run a restaurant business and close by 9:p.m you may decide to schedule your ads to stop displaying by that time. This ad schedule model saves you cost because they are only active when you are available to give services and off when you are not.
Geotargeting
These are the locations where you want your ads to display; they can be locally targeted or elsewhere depending on your specification.
As an advertiser, you may want to bid more for certain locations from your Google Ads budget or bid more at certain times of the day based on the benefits of these areas to your business.
How much do Google ads cost geotargeting?
When you kick start your Google ads campaign, you have the liberty to choose which locations your ads should show on the Google search result, you can limit them to certain areas of your interest, it is your sole wish to allocate high bids to particular areas base on relevance it's to you.
This is one of the fundamental and most influential methods to take advantage of and conquer your business target with this Google Ads geotargeting feature.
This is useful when it comes to trends, and targeting behavior of users in a certain location, if you bring to their immediate view what they are looking for, then your ads budget will be efficiently spent.
Device targeting
Nowadays device targeting is not as that influential as it use to be in the past, long before now, prospective ad searches were gotten only from desktop queries.
The change of device targeting has made it easy for both consumers and advertisers such that consumers can search and get result with different types of devices e.g. android, Ios, KaiOS, plasma OS, etc this give you a general knowledge of where the most leads and conversion for your business are coming in from and that is the only time device targeting becomes very useful as it helps you understand the statistics of which device is particularly used for to link up with your business.
Most searches on Google are done with mobile devices, but if your intention is for your business to get more leads from desktop searches then you can allocate a higher share of your budget on base on the one that gives your business the best leads.
Google Ads pricing: How much does a typical click cost in Google Ads?
Understating how several factors influence your Google ads to cost, has brought us to "how much google costs you for each click on your ads?", and "keywords" in this context which is the number one factor for pricing of google ads.
Keywords Pricing in Google Ads
One of the basic things to consider in a google ads campaign is a keyword and how it influences pricing, your concern shouldn't be even the ads format yet, what gives you an edge here is your budget, industry's competition, and keywords bidding.o
How much do google ads cost?
Ads cost is determined by the competition and keyword of your industry, clicks under the finance, health, and legal industries, have high prices so if you operate a niche among these industries you should get ready for a higher cost for your campaign.
Average CPC in Google Ads
The average cost per click for Google search networks and their keywords is between $1 and $2. The cost for Google display network clicks is less and its average is estimated to be $1.
What is the CPC for long-tail keywords?
This very category of keywords is the one with a very high cost because they appear more on the Google search index making it the real deal with a high cost.
On the other hand, short keywords do best and are relatively cheaper and richer when searched among the ranks.
Note, all of these two keyword types are useful but always know the one that will best serve your business and respective industries
For example, when someone runs a food "restaurant", in Texas, patronizers may search where to get a restaurant . "restaurant" is a broad keyword with a result volume of over 80,000 the cost of this keyword CPC is valued at about  $$0.81, in a case where the search is  "where to get a Chinese food restaurant ." That is a  long-tail keyword of over  9,100 and with a CPC estimated to be $6.40 on display networks. This kind of intent is not too strong enough like the latter but is closely certain that they may be shown your "Chinese food restaurant " ad because it also has the keyword they are searching for.
You will see the best advantage of long-tail keyword targeting and how it can give your business a broader search appearance presented to advertisers
What is the Google Ads cost in my industry?
This is a vast research work for you before starting your ads campaign on google, all industries have different pricing in their various fields. Whatever niche your business operates under, you will see from the list of google how they are priced for advertising on their platform with their respective average CTR, the average cost per click below.
Industry Average CPC (Search)
Dating & Personals – $2.78
Education – $2.40
Employment Services – $2.04
Finance & Insurance – $3.44
Health & Medical – $2.62
Home Goods – $2.94
Industrial Services – $2.56
Legal – $6.75
Real Estate – $2.37
Technology – $3.80
Travel & Hospitality – $1.53
Source: WordStream
The cost of your industry on google ads should be a major concern because it determines how your ads budget will be spent on your targets, such that you can actually decide to continue with them or not.
What are the most expensive keywords in Google Ads?
On the list in the next paragraph is how the most expensive industries on Google ads are been priced according to key keyword categories, prices may vary yes that is true and determined by google during the course of your ads according to target and location.
Insurance – $54.91
Loans – $44.28
Mortgage – $47.12
Attorney – $47.07
Credit – $36.06
Lawyer – $42.51
Donate – $42.02
Degree – $40.61
Hosting – $31.91
Claim – $45.51
Conference call – $42.05
Trading – $33.19
Software – $35.29
Recovery – $42.03
Transfer – $29.86
Gas/Electricity – $54.62
Classes – $35.04
Rehab – $33.59
Treatment – $37.18
Cord blood – $27.80
Source: www.storegrowers.com
List of the most expensive keywords in Bing Ads?
Bing Ads is a Yahoo system that aids it in conducting a pay-per-click PPC on the Bings search network.
The advertising market is a multi-billion dollar market hence does not stop several others from competing with Google.
To compare and contrast these ad's pricing I have dished from Bing some similarities, to be able to see how their prices are also competing we came to a conclusion from our research as listed below the most expensive keywords in Bing Ads.
Bing also offers the same services as Google just that Google owns most of the share in advertising due to a bigger user base.
What is the cost of the most expensive keywords in the Bing Ads network
Below is the list of the topmost expensive keyword categories found on the Bing Ads network and there respect CPC in different industries
Lawyers – $109.21
Attorney – $101.77
Structured settlements – $78.39
DUI – $69.56
Mesothelioma – $68.95
Treatment – $67.46
Annuity – $67.31
MBA – $62.78
Phone – $53.94
Insurance – $53.14
Diploma – $52.73
Rehab – $49.67
Cloud – $49.52
Accounting – $44.82
Exterminator – $44.66
Mobile – $43.04
Business – $40.75
Repair – $39.80
Plumber – $36.97
Podiatry – $29.89
The cost of any keyword bid depends on the industry that the business is operating under, targeting and ads score such that the cost of the ad varies based on them.
This has made it easier for advertisers by saving them a huge cost because the most expensive niches don't have to exhaust their daily ad budget limit because of these factors even when your business is found under insurance or legal industry.
What you should consider now is where to get the end result in ROI (Return on Investment) for your expense Targeting, CPC, CRT, etc) affecting each business as it best suits your plan.
How much do typical businesses spend on the Bing Ads network?
Usually, once someone has asked about the average cost-per-click of an ad, their next question will be how much will businesses spend on Bing Ads network online marketing costs. Unfortunately, this is another question without an easy answer. However, that doesn't mean we can't tell you a little bit more about how much a "typical" business spends on paid search. First, we need to look at overall spending data by industries.
If you look at the average CPC data below, you'll see that the top five most competitive terms are found:
Insurance
Online education
Legal
Marketing & advertising
Internet & telecom
In our latest search advertising benchmarks report, we found these industries to have the highest average costs per click on Bing Network:
Attorneys & legal services ($8.67)
Dentists & dental services ($6.49)
Home and home improvement ($5.75)
Finance and insurance ($5.16)
Business services ($4.90)
There's also significant overlap in the industries with the highest average cost per lead:
Attorneys & legal services ($73.70)
Furniture ($64.72)
Finance and insurance ($62.80)
Business services ($62.18)
Career and employment ($53.52)
As you can see, companies in the insurance and legal industries spend the most per month on Google Ads and Bing Ads networks. Big brands in the industries above can spend $40 to $50 million a year, but this isn't exactly relevant information to would-be doesn't have good knowledge about these Ads. But the good news is, that you don't need to spend millions on Google Ads to make it work for your business.
How much do small businesses spend on Google Ads?
As you might expect, the amount that small businesses spend on PPC varies widely. Some, such as for real estate, home services, and healthcare, spend $1,000 – $3,000 on Google Ads per month.
Here's what we found in our latest vertical benchmarks reports:
Real estate: $1,000 – $2,000 per month
Home services: $700 – $3,000 per month
Healthcare: $500 – $2,000 per month
But for mid-sized companies and agencies, we see anywhere from $7,000 – $30,000 per month. Historically, from the very smallest shop to the mid-sized PPC agency, we've seen an average of $9,813 per month spent on PPC advertising. That's still a pretty wide range, but you can at least research about it to see what it will cost you kind of brand.
Other Google Ads-related cost?
What matters the most is your ad budget it takes the highest share of your campaign cost meanwhile that is not just what you spend your budget on, there are other related costs for your google ads campaigns.
There are some other factors that also share your ad budget so say, but this is basically based on your potential business industry, marketing goals, and personal situation that constitute the other factors that share your budget cost.
Agency costs for Google Ads
Adsense campaign cost is not only for CPC and CTR but several other factors may also be involved based on your business goals and intention.
Agency cost, this is a service acquired by some businesses for their social media management, it is nt free because this is a time service, and no matter the size of your business you have to pay this agency a certain amount of money to handle this part of your business for you.
Most of them charge you as much as 10% for this service it can be more depending on the agency.
This is time-serving and it offers expertise for your ads campaign.
Well before selecting an agency to handle your ads management makes necessary inquiries to get the best one for the job in order not to spend in vain, because you will have only yourself to blame if your adverts get engaged or not.
Below are some suggested tips for you before choosing an agency to handle your ad management.
You should consider the following before venting into hiring an agency to handle your business ads management
Your Business industry
Customer lifecycle
Consumer trends.
Total affordable budget
Business intent
Conclusion
This article has covered the best practices and costs of the google ads network and it also compares it with Bing ads which is also a trending platform you can equally place ads on.
Google ads are based on a function called the auction system which brings ROI to your business outfits and some good rewards like quality CPC, CTR, conversion, and outreach for all businesses at a cheaper rate if you have quality scores, outlined best geotargeting, ads scheduling and ads rank.
You can get the best benefit with this ad based on the average cost per click on this display network for less than a dollar
For high competitive keywords in the industry which are law and insurance, they cost very high on both Google Ads and Bing Ads costing up to $50 or more per click due to their high customer lifetime values.
To clear more doubts on ads, we are certain that big businesses spend money on Google search ads amounting to $50m per annum for their business to get presses and conversion for their business, while some SMEs incur as much as $12,000 to $120,000 per year for campaigns to boost their markets as well.
This is to make you understand the impact this has on business and we hope you have understood clearly what it takes to be on the front page of google advertising and what it cost to be unique on the search index
In a nutshell, understanding how your ad budget is spent and the factors that affect how it is spent should be of great concern to you so that you can be able to balance it up with the mystery CPC and PPC in your advanced ads targeting for an overwhelming result.