There has been so much noise about social media display ads in the past 10 years. It's always been about Facebook Ads, Instagram Ads, and lately TikTok Advertising. Though Twitter Ads has gotten a fair share of social media ads, it still falls short when compared to the previously mentioned.
Apart from the above listed, YouTube ads, LinkedIn Ads, Pinterest Ads have all seen significant growth in the number of advertisers and advertising revenue that comes through PPC advertising on these major online platforms.
Some markets claim Twitter is a great platform for lead generation while others claim it's great self-serve advertising since its recent upgrades.
In this article, I will cover all you need to know to get the most out of your Twitter Ads campaign. So read till the end.
Defining Twitter Ads
Twitter ads is a self-serve advertising platform designed to enable advertisers to create and launch ads to reach their target audience across multiple GEOs and devices using various ad formats and ad features.
It's one of the most popular ad platforms for PPC advertising just hovering behind Facebook Ads, Instagram Ads and LinkedIn Ads.
It's easy to set up ad campaigns and let the platform do the magic.
Twitter Ads Manager
Twitter ads manager is designed to help advertisers create ads, manage and measure advertising campaigns in one place.
Access the Ad manager, you will first need to log into your ads account at ads.twitter.com. Once in, you have the full ad manager interface displayed on your screen.
Let's look at the features of the ad manager.
Features of the ad manager
There are multiple features of the platform but I will touch the most important once
#1. Campaign structure
Twitters ads have added these features to allow advertisers more control over their ad campaigns. With this feature, you can also be able to quickly edit the following:
Campaign name
Modify campaign end dates
Campaign daily budget
Campaign total budget
Apart from that, you can as well modify ad groups based on how you want to spend your money during an ad campaign. targeting placements making quick edits to your Ad campaigns:
Ad group name
Ad group end date
Bid type
Bid amount
#2. Custom filters
With the Filters, you will be able to quickly find the ads you want to evaluate. Also, you will be able to find campaigns by the followings
Funding source
Objective
Status
Campaign name
Apart from these, you can add many filters to be able to see more information about your campaigns. It is possible to also save these filters to easily use them in future. Filter sets are unique to each advertiser.
#3. Custom metrics
By default, advertisers are presented with all their ad campaign metrics which includes cost per campaign, results and results rates.
With the custom metrics, the platform allows you to customise your report while choosing only what matters most to you the advertiser.
It's also possible to create and save your report and use it whenever it's convenient for you to view your metrics and evaluate your ad performance.
Though there are many things you can do with the Twitter ads manager, I will advise you to explore more on your own to get more acquainted with the platform.
Let's look at other Twitter ads aspects.
Twitter Ads Formats
Twitter have many ad formats ranging from brand awareness ads that attract more followers to take over ads. Let's see what each of the Twitter ad formats can do for your campaign.
Twitter Follower ads
This ad type is meant for those willing to increase their visibility across the platform to create awareness and attract more follows to their Twitter account.
This is great when you want to build your presence on Twitter and have a massive following. They usually come with the CTA button, "the follow" button to make it easier for your target audience to follow your Twitter account or page.
Twitter Amplify Ads
This is Twitter's video ad format similar to the video ads seen on YouTube, AdsTargets and Facebook. This ad type is subdivided into Amplify Pre-roll and Amplify Sponsorships.
The Amplify pre-roll Twitter video ads are shown before the video is played while the Amplify sponsorship shows during the video and all are available to self-serve advertisers.
Twitter Takeover Ads
This is similar to Interstitial ads that cover the top of the audience screen mostly when they first open the Twitter App. These ads take control of the top screen space to get your audience attention.
They're shown as videos or in image formats as seen in the image below. These ads if well targeted are very effective and designed to improve your conversion.
Twitter live Ads
This ad format is designed to get the audience to engage through life events. For example, when you want to break the biggest news of your brand and get life audience attention.
Twitter Ad specs
It's important you understand the required ad specs in order to generate the right creatives for your ads. This is what you need to know about Twitter ad specs as written by Adespresso.
Twitter makes it possible for you to choose your desired creatives when creating your ads. As seen below, you have multiple ad creatives to choose from depending on your ad type and target audience.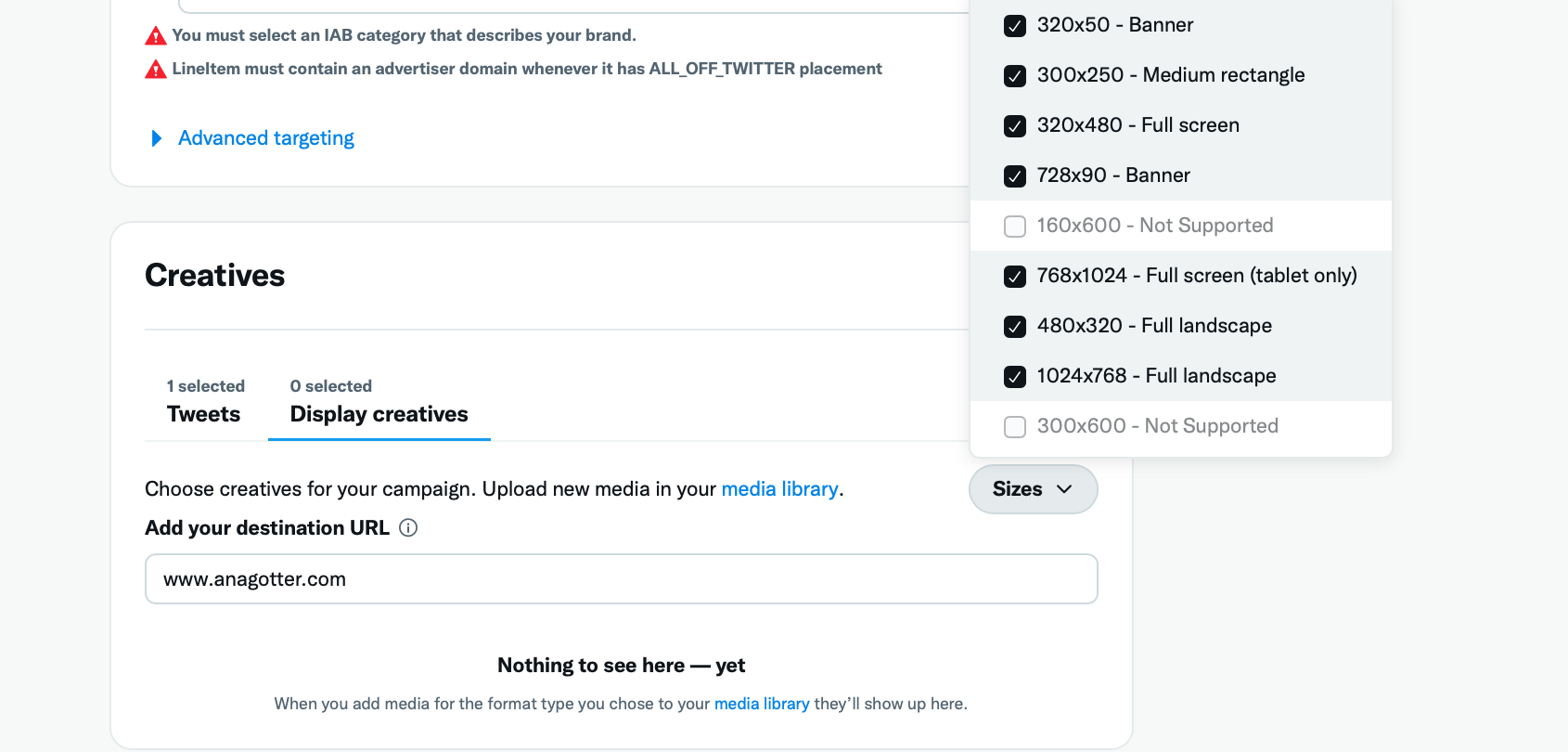 Twitter Ad Features
Apart from the Ad formats and ad specs to enable advertisers to choose their preferred Ad types. There are also many ads features to enhance ad performance and ultimately return on ad spend (ROAS).
These features include CTA buttons designs to make ads more attractive and motivate your audience to take the required actions.
Here they will be explained in detail.
Polls: Add an interactive, eye-catching feature to ads and enable followers to engage with content.
Conversation Buttons: Drive engagement and conversation with embedded buttons that prompt people to Tweet about branded content. They include call-to-action buttons and customizable hashtags.
Website Buttons: Add a clickable functionality to Image and Video Ads, and allow them to serve as click-through real estate to a specific landing page.
App Buttons: Also add clickable functionality to ad creative and links to a specific App Store or Play Store app downoad page. If users already have the app downloaded, this button can also be configured to open into the specific app on mobile.
Branded Hashtags: Allow advertisers to express their personality and add a fun visually-appealing creative element wherever the hashtag is used across Twitter.
Branded Notifications: Enable people on Twitter to raise their hand to receive valuable content or experiences directly from brands, at the moments that matter most.
All these features are designed to make your ads more effective. It's up to you to decide which you need the most for your campaign.
How to set up a Twitter ad campaign
Creating Twitter ads is an easy and straightforward process. First, you need to navigate to the ad center and follow the following steps to create your ad campaign.
Once in the ad center, the first thing you will be required to do is to choose your campaign objective
Step #1. Choosing your Ad Objective
Here you may be able to choose one of the following: Video views, Pre-roll views, App installs, Website clicks, Engagement and followers.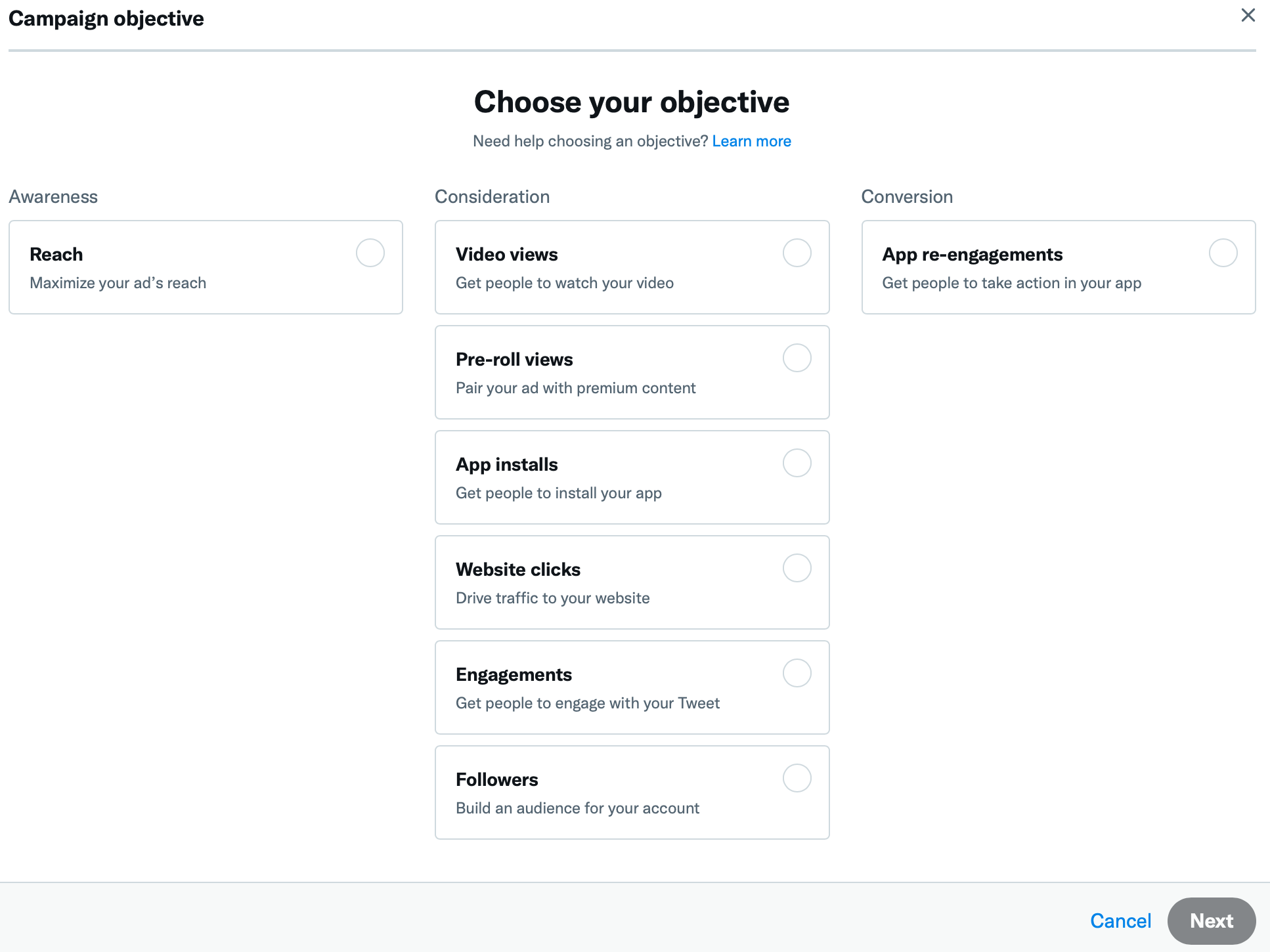 Step #2. Setting your Twitter ad budget
The next thing is to set your campaign budget. Here you will enter your campaign name, input your funding source such as credit card.
You will also be able to set your daily budget, how much you want to spend per day, total ad budget which is the amount you want to spend for the entire ad campaign.
You can also specify specific times you want your ads to be shown including when you want your campaign to end. This helps control how much you spend and when you want your ads to stop running.
This is the advanced part of your ad pricing setting where you choose between standard and accelerated pacing.

Step #3. Enter your Ad Group Details
Under Ad group, you can create multiple ads but most importantly, this section allows you to input your total budget, choose a campaign goal, and choose your bid strategy.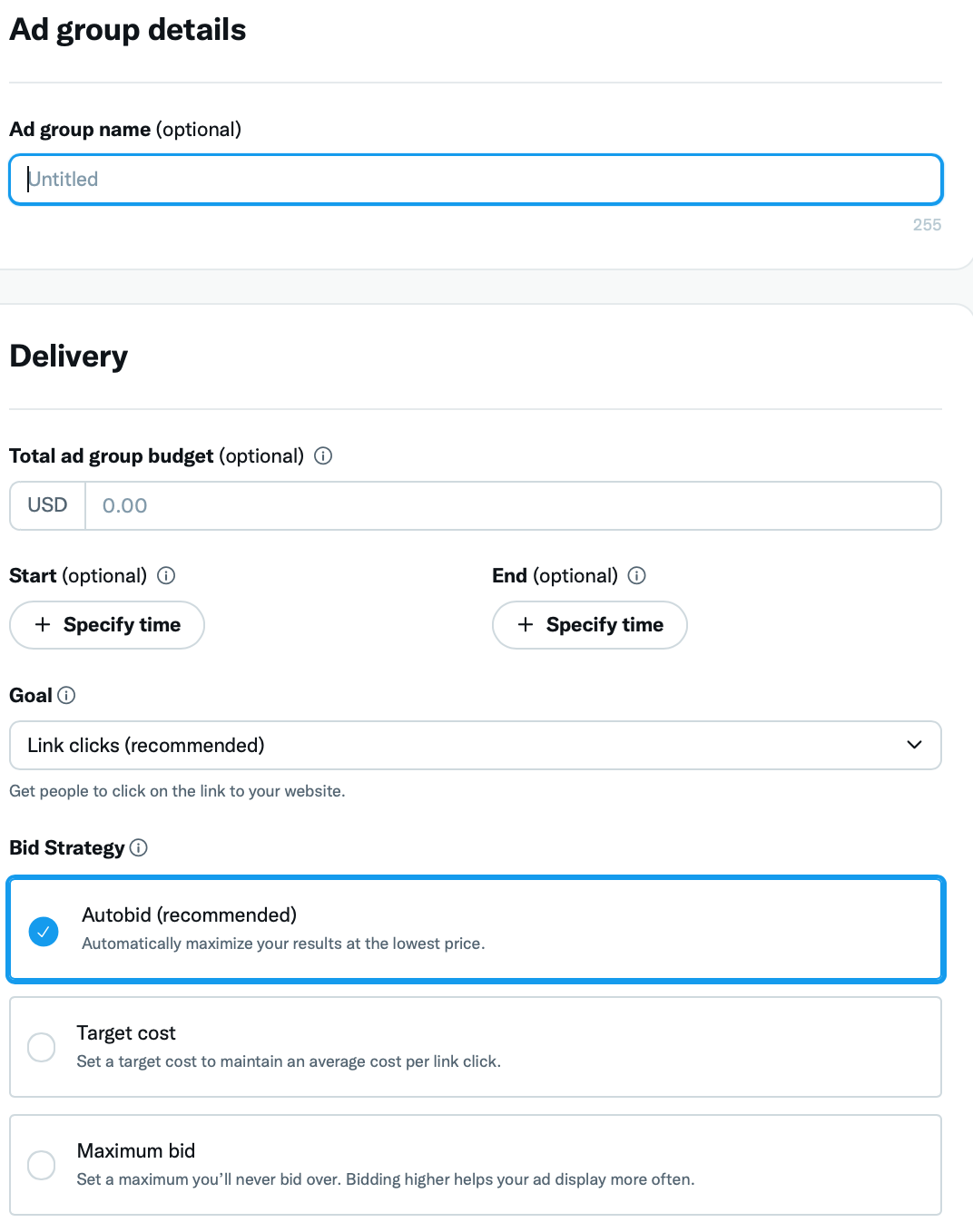 Under this section, you will be able to choose your preferred audience and target them based on their demographics.
Twitter audience targeting include gender, age, location, and language.
You can as well choose your preferred devices here. We recommend choosing mobile devices as well since Twitter users access the platform mostly on their mobile devices.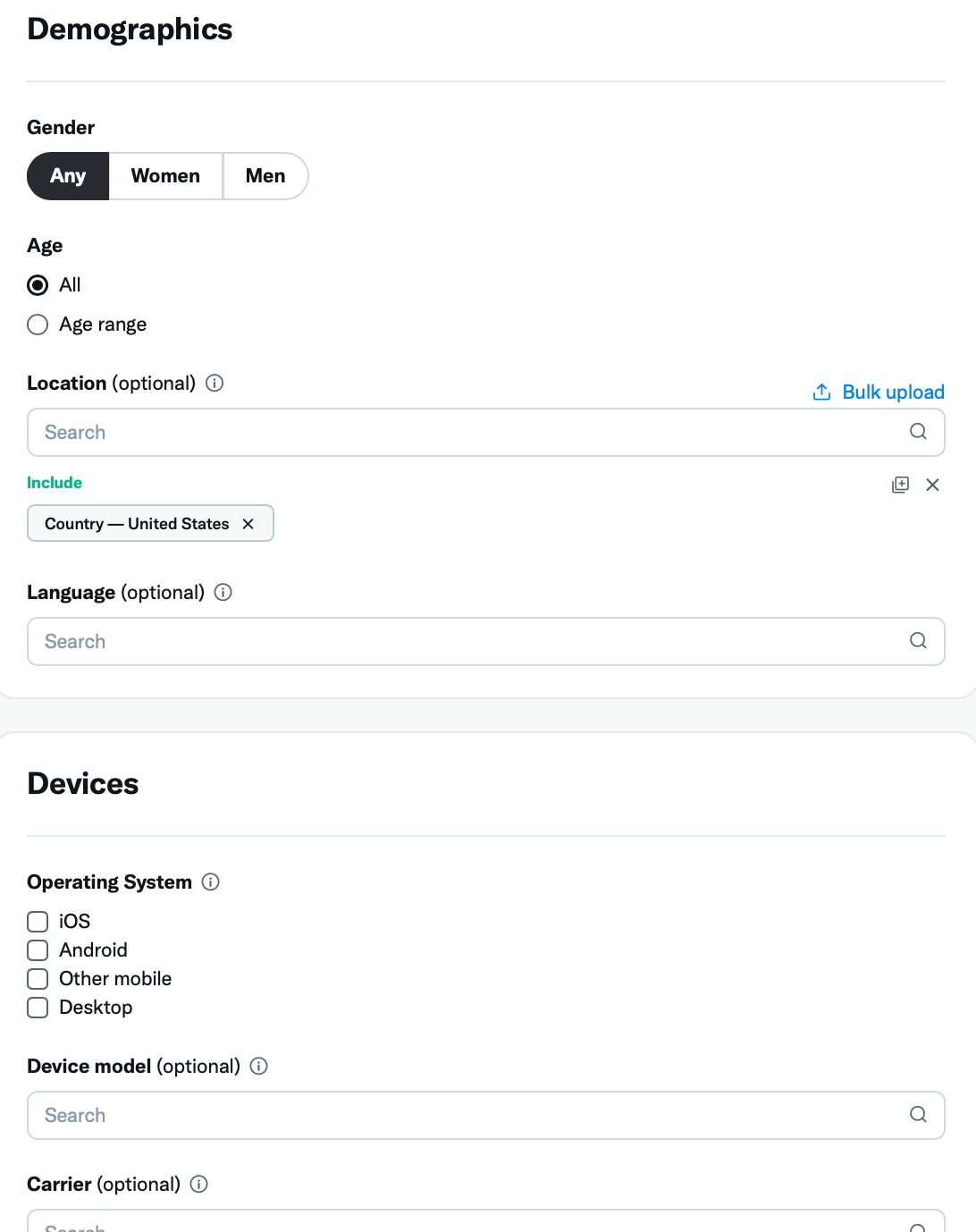 Furthermore, Twitter just like Facebook offers advertisers the opportunity to use a target custom audience. These come from uploading a list of the audience on your Twitter ad account and targeting them accordingly.
You are also allowed to expand your reach by targeting a lookalike audience based on your custom audience list or data collected from your previous Twitter ads.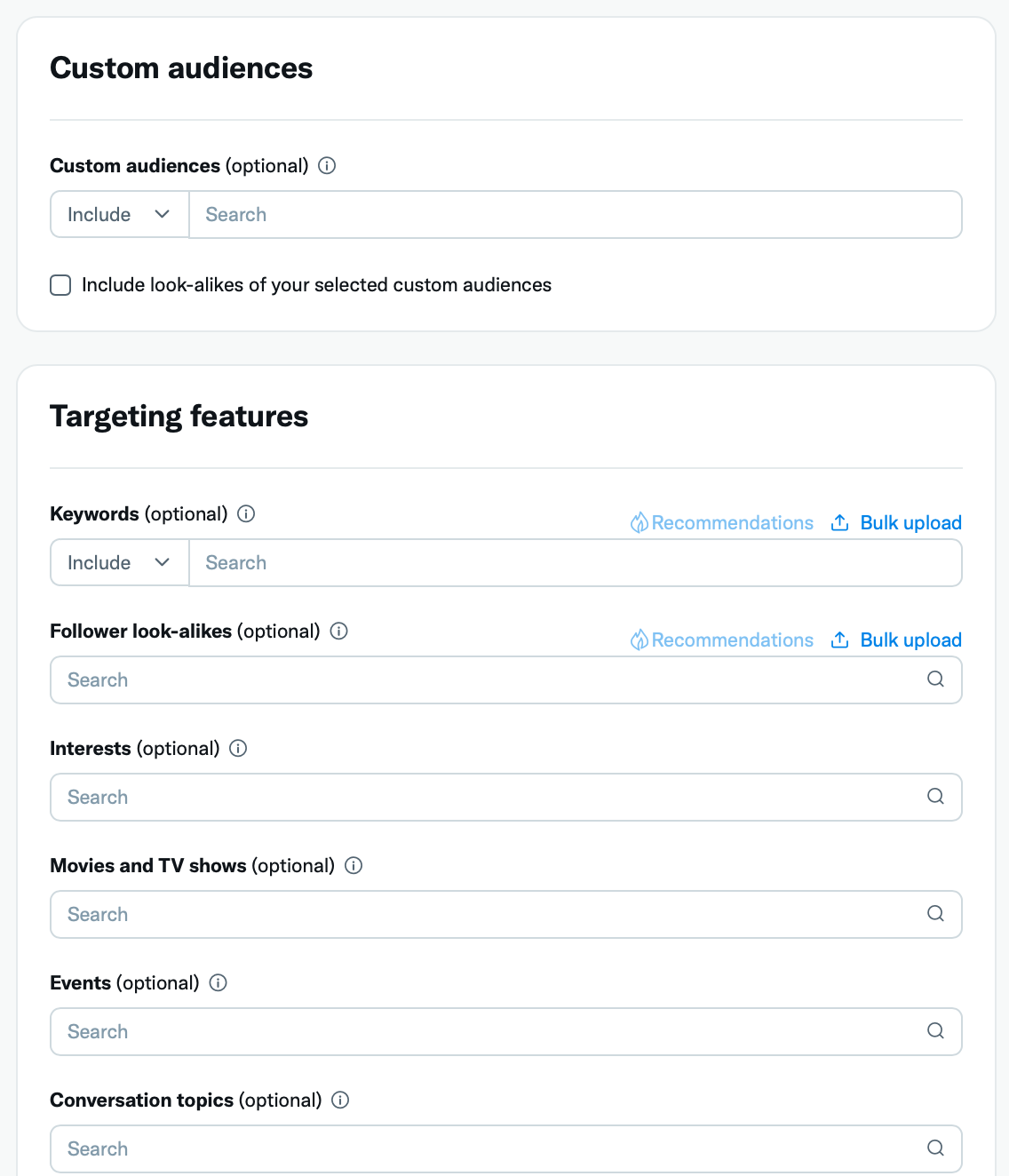 Step #5. Choose your placement
At this stage, you need to choose your ad placements which include home timelines, Twitter profile and search results. Under the audience placements, you can choose formats as well which include native, banners of all sizes, rectangle or portrait and not forgetting ad categories for more precise targeting.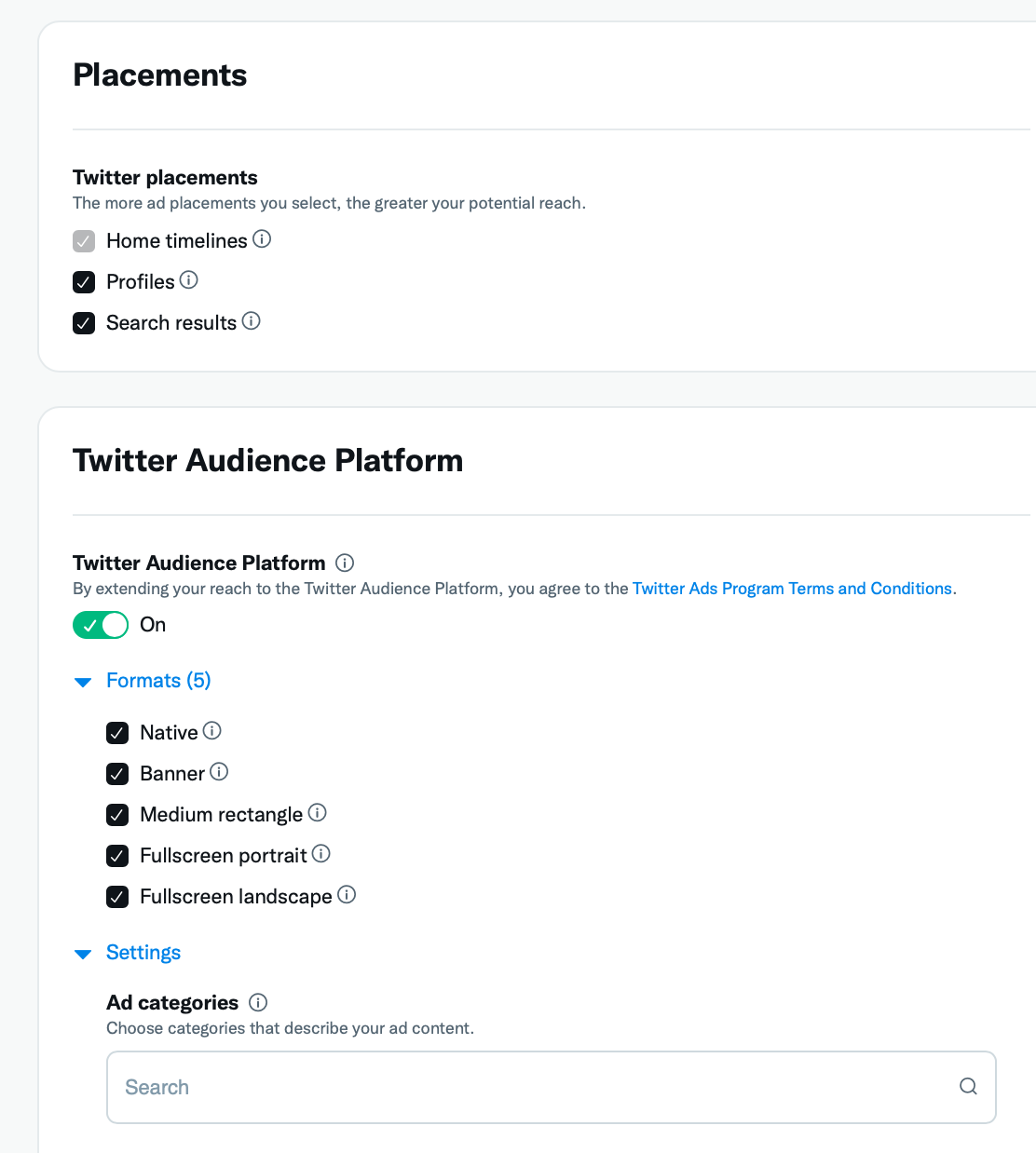 Step #6. Choosing your Creatives
This step allows you to choose your ad creatives and then move to the final step.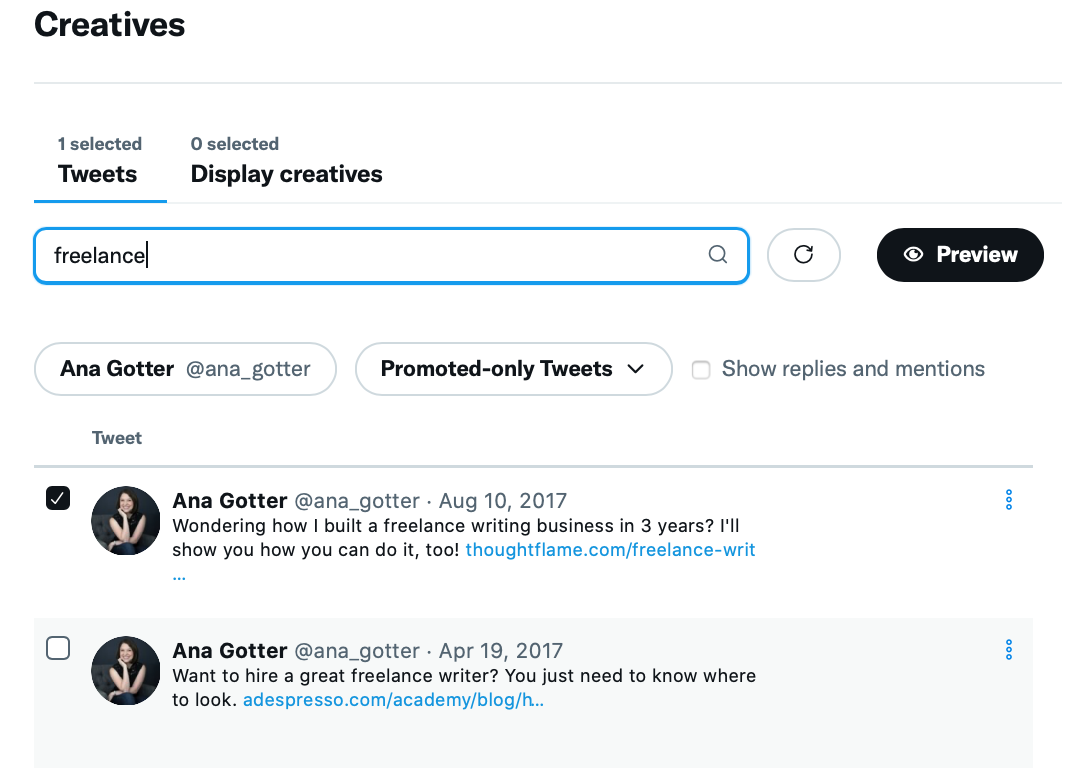 Step #7. Review and Submit
To avoid mistakes, Twitter gives you the opportunity to review your ads before final submission. Make sure you go through the information to make sure it's correct before submiting your ad copy for approval.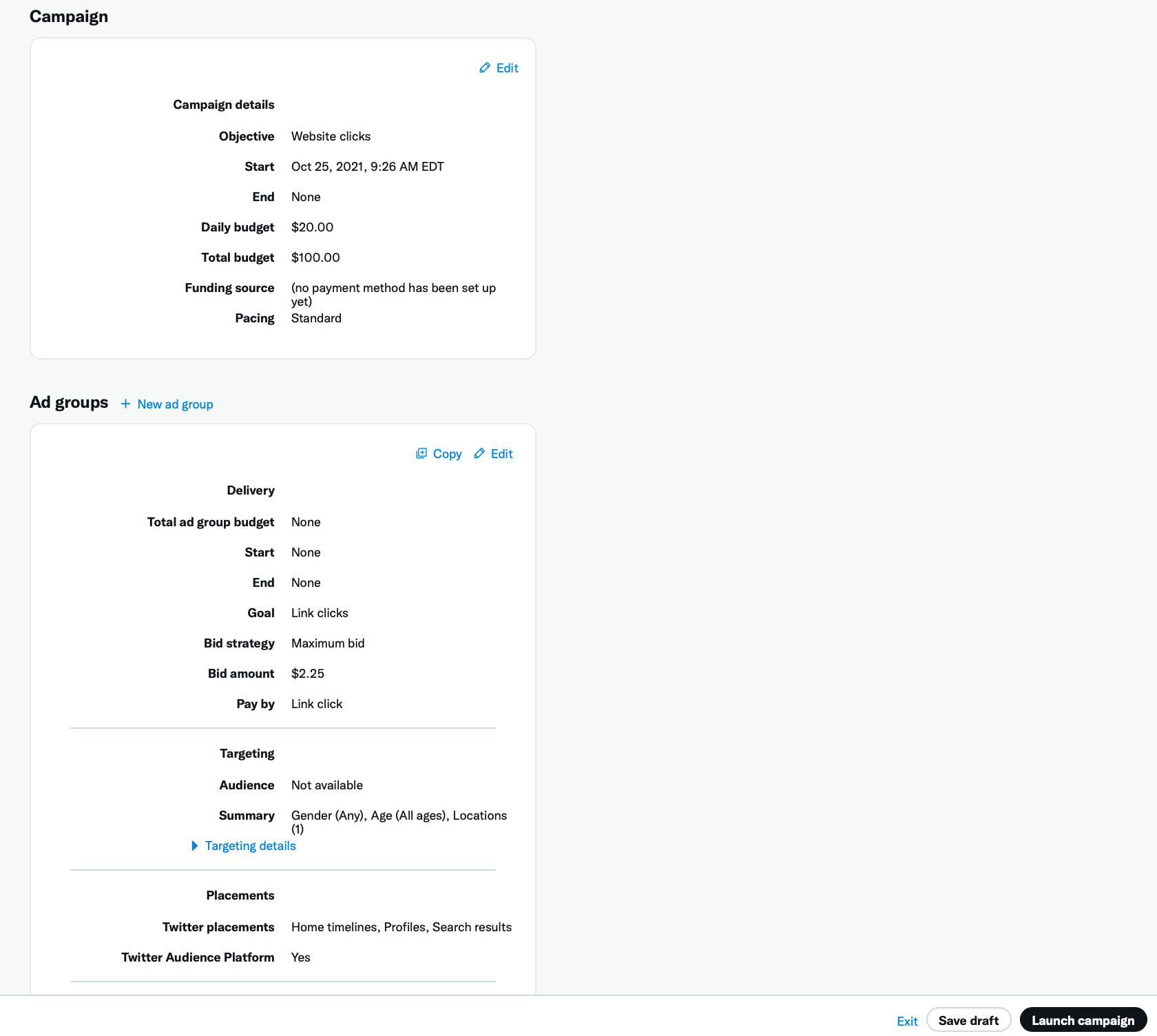 Effective Twitter Ad Campaign Tips
I believe you have learned a lot already. Now let's look at some of the best ways you can get your ads to perform more effectively.
Tip #1. Give away free stuff
People love free stuff which is why most marketers tend to offer free stuff such as free courses, valuable free information, books, video tutorials, 30 days free trials, or discounts over 50%.
This attracts people to click on your ads more which also increase the conversion rate. If you're offering such free trials, use the opportunity to get your ads to perform better by offering discounts and free trials.
Tip #2. Keep is simply
In any case, keeping your ads simple and concise is the best way to get your target audience to understand your message.
When trying to get someone to buy from you, you need to convince them using a simple and straight market language.
In the case of ads, you need to mention the most important keywords in the titles and description of the ad copy. You can also include hashtags when it comes to Twitter ads.
Tip #3. Use Eye-catching visuals
You need your ads to be attractive enough to get your audience's attention within a few seconds of looking at them. This makes it easy for them to get interested and engage with your ads.
There are various ways you can get this done. You may decide you use great colorful images, Use attractive Gifs combined with relevant images, text and colors.
Take a look at this Twitter ad example by Elite Daily. This is how at least you need your ads to be attractive.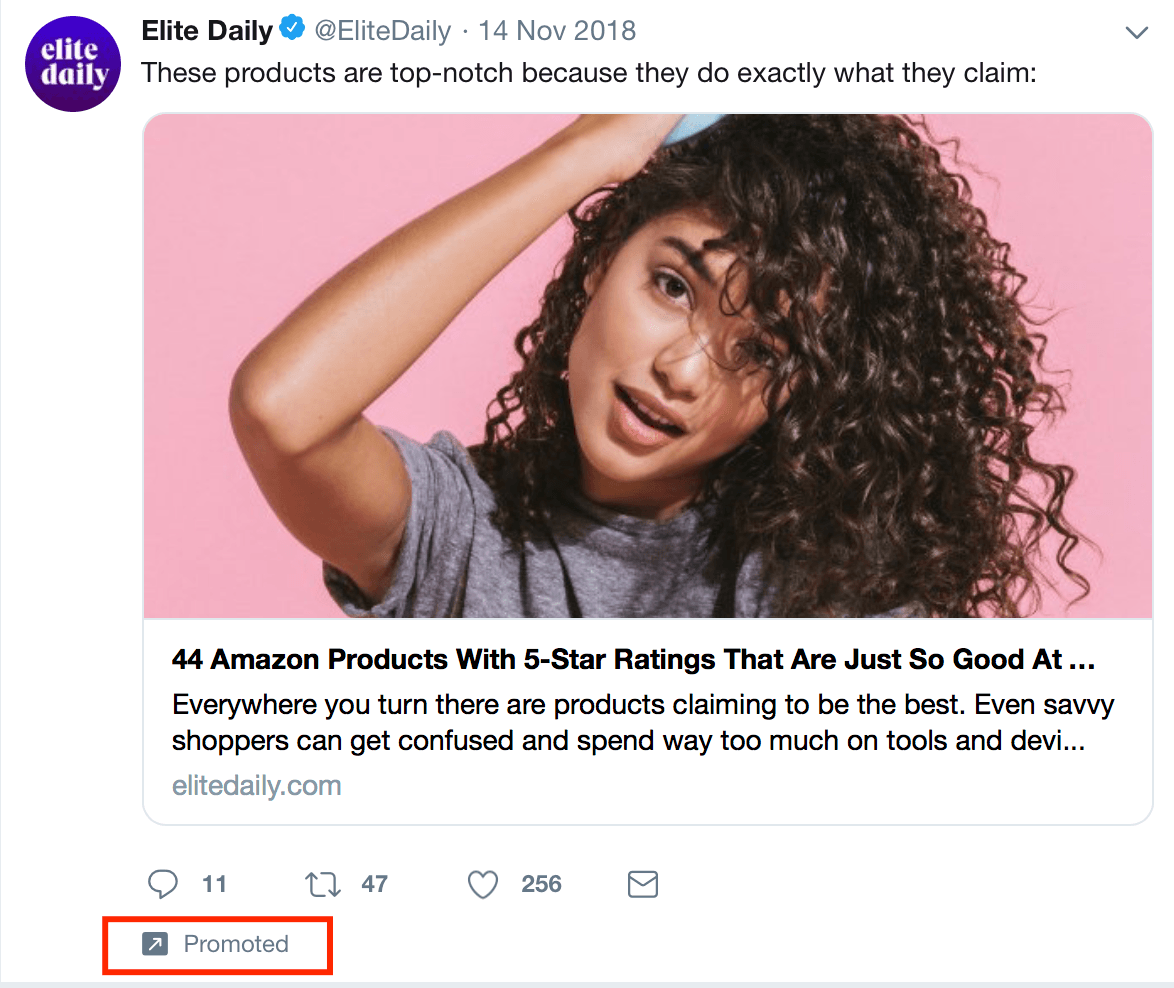 Tip #4. Insist on Time
Give people reasons to believe they will miss a lot if they fail to take the proposed action. This could be offering them a limited period to sign up and get higher discounts or get more benefits within a specified period.
Tip #5. Use the CTAs
CTAs are among the most important features of Twitter ads and must be used to enhance ad performance.
For example in the image below. The advertiser needs more followers and therefore includes the follow button in the ad.
This enable your audience to take the required action and also know what to expect after such an action is taken. Be direct and explain what they stand to gain for taking the action. Motivate them to click on your ads by using a CTA button that suits your ad copy best.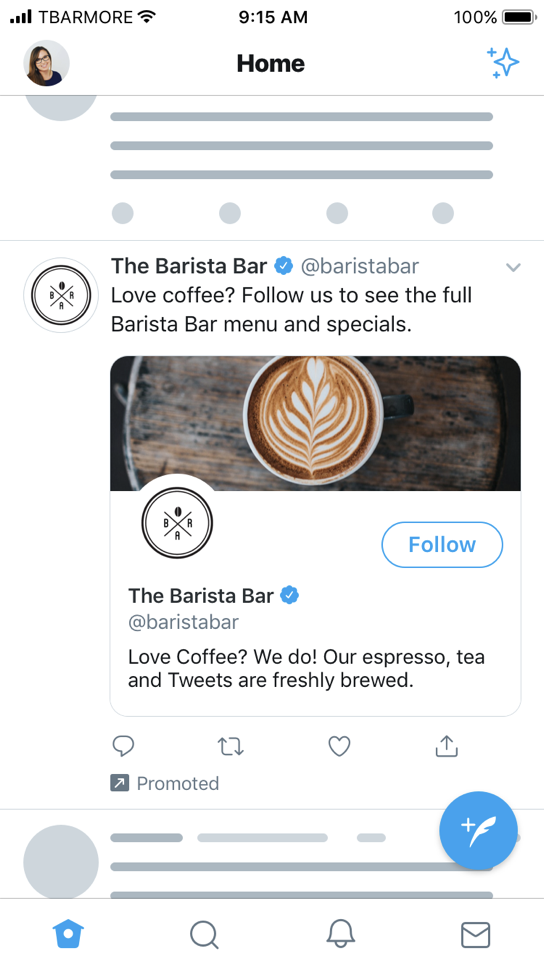 Tip #6. Use Questions
Asking questions get your target audience to engage with your ads making them more visible. People like to be motivated to engage or take action. This is one way you can get your ads to perform effectively.
Tip #7. Optimize for Mobile
Mobile is everything these days and certainly very important for Twitter ads too. Most people access Twitter on their mobile devices. This means, most of your target audience will be mobile users. Optimizing for mobile will greatly help get your ads more visible.
You can optimize for mobile by using images or gifs that display very well and easily on mobile devices. Also, make sure you choose your preferred mobile devices in the device section while setting up your Twitter ads.
Furthermore, make it attractive to capture your mobile audience's attention.
Conclusion
Twitter is an incredible ad system used by millions of advertisers. Many do not get the desired ad results mostly due to a lack of understanding of how the platform works.
Knowledge is everything which is why we decided to share this piece with you to enhance your knowledge of the system and hopefully be able to improve your Twitter ad results.
We covered all the most important aspects of the Twitter advertising platform. We defined what Twitter ads is, Twitter ad specs, Ad features, how to set up your ad campaigns step by step, and share great Twitter ad tips to help improve your ad performance.