Native advertising is one of the most effective form of online advertising today used by many brands across various industries/niches.
Hence people are generally known to dislike display ads, native ads are designed to seemingly match the content of the web pages and doesn't look like Ads but in a way still captures the attention of the audience.
This strategy has improved click-through rate (CTR) as they are engaging and go inline with the content the users are already interested in.
The goal is to reproduce the user experience of the context in which it is positioned both in appearance and content.
In this complete guide on native advertising, you will find out everything you need to know about this topic.
So let's get started… Read till the end to get full insight 🙂
What is Native Advertising?
Native Advertising is a form of contextual online advertising that hybridizes and camouflages content and advertising messages within the editorial context in which they are placed, presenting advertising as a natural continuation of the editorial content that hosts it.
The Ads or, more generally, the native advertisement content are entirely consistent with the content of the page, the design and the behaviour of the platform that hosts them so that the user who sees them simply perceives them as part of it.
The ultimate goal of Native Advertising is to make the advertisement less intrusive for the user and thus get around the so-called banner blindness, that is the cognitive process by which users, increasingly targeted by banner ads, tend to ignore in a more or less conscious way everything they perceive as an advertising message.
Does the topic intrigue you? Here are some statistics of native ad campaigns that discover the concept:
53% of users are willing to notice native banners.
32% are ready to share native advertising,
85% of smartphone-users consider native ads more visible.
More than 18% of viewers have shown the intention to buy.
Native ads on gadgets reach the recipients and have 6 times more conversion than conventional banners.
And now, why is the rate so high? Well, the success of native advertising is based on the very high focus of the effectiveness of the user experience – something that does not always go well with conventional advertising.
User behaviour is the most important concept when it comes to earning money with advertising and when you want to inspire them to react and enjoy your content.
A typical example of native ads can be that of a bridal shoe advertisement inside an article that talks about the possible fashion pairings for the big day.
The most popular formats of Native Ads are six and, specifically, are:
in-feed, like the sponsored articles on websites and social adv;
sponsored ads on search engine pages;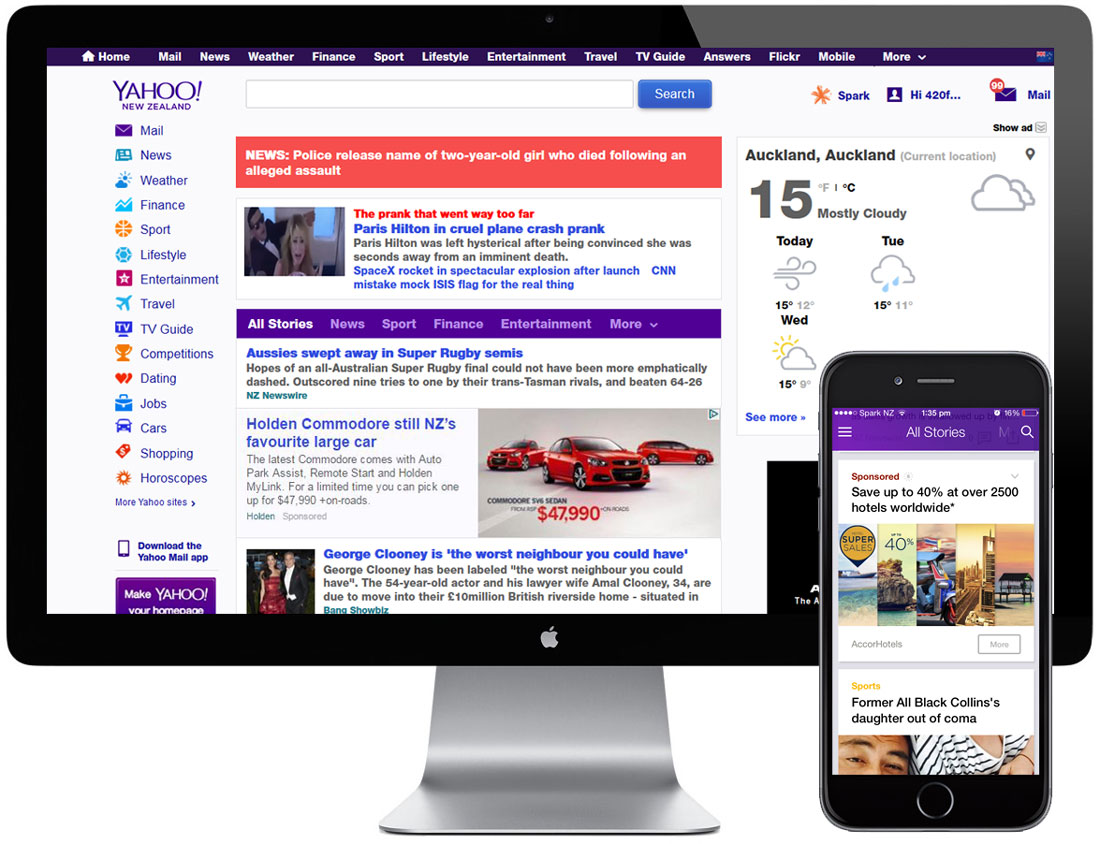 recommendation widgets, i.e. those advertising links at the bottom of articles published on a site, which recommend similar or related content;
sponsored lists, i.e. lists of products of companies placed on sites that do not have editorial content and have a link to a company landing page, but which are created to suit the site's browsing experience;
in-ad, i.e. advertising containers placed outside the editorial content flow, but which have contextually relevant content within it;
custom, i.e. all those forms of native advertising that do not fall within the previous formats.
Value-added engaging content
One of the advantages of native advertising is that it shows attractive content for users, rich in information and fun.
In this case, users are willing to click and read the native ads, which in turn ensures spontaneous and favourable branding exposure.
For example, when NY Times had to promote Netflix for the Orange is the new black shows, the user was effectively nailed through an interesting article on women in prison issues – a winning combo for both users and Netflix.
Natural soft-selling advertising
Studies have shown that users usually disregard direct sales-oriented messages, and this is what fails in conventional advertising.
Instead, native advertising supports the soft selling message by mixing the advertising naturally with the context of the platform where it is published, so this advertising is not perceived as direct selling to the user.
Native ads show up to 3 times higher CTR and 2 times conversation rates – i.e. the total income of advertisers and publishers increases in 6 times.
Native advertising comes from advertorials: the articles on average, are created for specific clients with a small piece of promotional information. One of the ancestors of native ads is a simple promotion post on Facebook.
Paid posts appear in news feeds and are treated positively by users, as they look like normal posts in the timeline.
Now native ads have gone through some changes in meaning. Now the native ads contain a short and attractive image and text with links to the advertiser landing page.
There is no need to contact bloggers to put the banner – an advantage of programming technologies to put the advertisement and make it fast and in the right place.
Segmentation and auditing in Big Data allow you to show the advertisement to the interested audience and real-time blogging.
As a result, it is not intrusive, the content of the advertisement helps users and tries to solve its problems.
As Vladimir Bashkin said, "The main purpose is to create favourable conditions for the user on the Internet, serving the recommended products that are compatible with the interests of the user and form a user-friendly environment.
We want the Internet to be cleaned from intrusive and irrelevant advertising, which is why every day we bring our technologies forward and try to help users see only the content they need".
There is no doubt that in the near future, AdNow will be able to "reconcile" advertisers with users.
It's important to create the perfect area for the user's private experience where there will be no more intrusive advertising and the user can find solutions for his problems with the relevant advertiser recommendations.
There's more and more talk of Native Advertising. How has the scenario evolved in recent years?
When Facebook introduced sponsored posts on mobile in 2012, it changed the market. Advertising investors are not given more space than users to promote their content.
The advertising is identical in form and size to any other content proposed in the newsfeed and never interrupts the user.
This is simple but revolutionary because it fits perfectly into the new prevailing context of use, which is mobile browsing.
The real novelty of these years is the possibility for brands to buy native advertising space outside the social context, in Premium contexts, i.e. professional sites with the content edited by editorial staff.
This is an extraordinary possibility both in terms of brand safety (guaranteed upstream because it is controlled) and in terms of semantic match between content and the advertisement inserted (for example an advertisement for a stroller on a mummy-themed article published on a site linked to the female world).
The important thing is to remember that the native is a "paid" tactic that must be part of a global strategy, otherwise, the risk is not to exploit its full potential: native display ads, sponsored articles, influencer marketing (i.e.)
The possibility of obtaining sponsored content on bloggers and opinion leaders on social media) can radically change the way of advertising and bring extraordinary results if an appropriate content marketing strategy is designed behind the channel and format.
Why prefer a native advertising strategy?
Because people perceive native content as more reliable and engaging than traditional advertising. And because over the next 5 years this form of advertising is expected to grow by 156%.
A study carried out by Yahoo and Enders Analysis "Native Advertising in Europe to 2020" has analyzed the growth estimates for Native Advertising in 2020;
By the end of this year, native advertising:
– will account for 52% of all display advertising in Europe;
– the investment in native ads will amount to €8.8 million in Europe;
– will reach 6.3 billion euros to be invested in social network native advertising.
After having seen these data I think it's time to think about how to implement a native ads strategy in your projects and to establish a budget for a campaign.
To determine how and how much to invest in native content you need to have an overview of what are the steps to follow to implement an effective strategy.
Steps to build your strategy
Strategy is everything and sure helps in the success of your advertising
Set and plan campaign goals and budgets
The first step. Defining and planning goals and budget is what gets you started.
When setting goals you need to be as clear as possible: focus on what results you want to achieve, what tools and means you want to achieve them and when.
Do you want to increase website traffic? Do you want to generate leads or sales with social media? How many and for how long?
When planning your budget, you have to choose how much you want to allocate to the campaign and where to distribute the money invested.
A clear picture of the situation helps you understand whether to invest your time or money; for example, you can choose to use content marketing and write the content yourself or have others write it, or use Facebook ADS and pay a professional to promote your content.
Define your audience, the recipient of the content
After the definition of objectives and budget, another important step is to understand who you want to address. Who are those who will have to listen to you, read you, contact you? Who do you want to reach with your content?
At this point, you will have identified a defined target to refer to.
So, start by focusing on that target. Then as your strategy progresses you will be able to collect enough data to target your content even more precisely.
Organise your content
Organises the content in such a way that it is in line with the platform on which you are going to publish
Keep in mind that content is at the heart of any native advertisement strategy. That's why you need to change your mentality and approach: when you process your message think like a reader, create engaging and engaging content, or when you write an article try to be the source, and become the point of reference for someone.
You have to consider that on the other side there is a person who somehow seeks information, and will read your content because he finds value in what you share.
There are 4 types of content that you can consider in your strategy:
1) Educational, informative, and entertainment content: they are used to bring knowledge to people and help them become familiar with a brand.
This type includes articles from websites and blogs, Facebook ADS, videos, TikTok, infographics and podcasts.
2) Information content aimed at the generation of leads: they serve to inform people in a concrete way about your service, often produced in exchange for a recording.
For this type of content are very effective blog articles, e-books, white papers, and infographics.
3) Content to stimulate sales: they serve to concretely shift people's attention to your product or service.
The landing pages, video reviews, professional photos and guide articles help to achieve the goal.
4) Content to encourage relationships: in addition to informing, they are engaging, they are those contents that generate empathy and in which the reader is reflected; an example of content like this is the interviews, Facebook Live, and Instagram Stories.
Select the right place to publish
Better online or offline? Web, paper or both?
It depends on the topic, the content to publish, what you want to promote, and the audience you want to involve.
When you begin to define the objectives of a native advertising strategy, you also determine what will be the means that will allow you to achieve results according to the needs of your target and what you want to promote.
In addition to social media that allow you to do native ads with a much lower budget than traditional and space-selling platforms, there are many magazines, blogs, publishers, and newspapers that allow the publication of native content.
It's up to you, of course, to choose the right ones: you'll look for those that deal with the same topics as the content you want to publish, the spaces that guarantee you an ad hoc audience, and a number of users appropriate to the objectives of your strategy.
The secret, however, is to publish in those spaces that with the least amount of time and money, allow you to get as close as possible to the goal.
Experiment, track, edit or repeat
Experiment with different content formats on different media. Don't forget to keep track of your actions.
Check the data daily, especially in the initial phase because it will be the right time to see if your experiments are successful or if you have to cut the dry branches.
If the process you set in motion works, repeat it. If not, try to understand why from the data you have collected and modified it; start experimenting again and keep an eye on your audience's response.
Monitoring a native advertisement strategy is essential because only by tracing your path will you be able to understand if the path you have taken is the one towards achieving your goals.
When designing a native advertisement campaign, the creative aspect is decisive: those who are faced with native content must be encouraged to investigate in the same way as when they are faced with the actual content.
Conclusion
Native advertising practically has outperformed many ad types and it all depends on several factors I believe you have learned in this post today.
You should definitely try to run some native ads and compare the results with your other forms of advertising to final decision.
You are also welcome to share your experience so we can upgrade this post and also help others develop a strategic plan to get quality results in their ad campaigns.
You are also welcome to ask all the confusing questions about this topic especially if you are new in this area and we'll try our possible best to assist you.