PPC marketing or Pay per click marketing also known as paid search or search engine marketing (SEM) is one of the fastest ways to grow your business online.
There is no doubt that it's complex to understand all that is involved in or how exactly PPC marketing works, the strategies involved in running successful paid search campaigns.
Many businesses spent a lot on PPC ads without having good results while some are very successful with their search engine marketing which took their businesses from small to multinationals.
In this post, I will take you through all that is involved in running a successful Pay per click campaign to grow your business.
So let's start by understanding what is PPC or Pay per click marketing.
What is PPC (Pay Per Click)
PPC simply stands for Pay per click. it's basically an advertising pricing model which allows advertisers or media buyers to pay per click they receive from an advertising campaign.
I would believe many of you have come across this term before. However, if you have not or did not simply understand the meaning. I would like to elaborate more just to make it more clear.
Ad networks have many pricing models such as PPC sometimes called cost per click (CPC). Which actually referred to the actual cost of each click you receive during an online advertising campaign.
PPC or Pay per click campaign is the processing of advertising your business through an ad network in order to gain visibility, impressions and most importantly clicks that get people to visit your website (Landing pages).
Many big businesses today have achieved their status by using PPC ads to grow their business from small to big or multinational businesses.
Small businesses engage in PPC advertising, however, the approach matters a lot. This is because the approach determines your success which is why you have to strategically design your PPC campaigns to bring high ROI on your advertising.
Making PPC campaigns more effective
PPC marketing or PPC campaigns can be more effective if it's done right and I will explain in detail with the following.
PPC Marketing
Understanding what PPC marketing is will help you focus on making your PPC campaigns more effective by getting more quality clicks, higher conversion rates and higher profit margins with your PPC campaigns.
So here is what is required to get your PCC more effective.
PPC Targeting
For PPC campaigns to be effective, the advertiser needs to define his or her target audience. There are targeting options used such as
Demographics
Location
Device
Time (Day and night)
Industry
keywords
These targeting options allow targeting more effective and make PPC campaigns delivered to the right people while increasing the value of your PPC campaign.
Using these targeting options, the advertiser may choose to run different ad copies simultaneously while targeting the audience based on their location, device, time and demographics.
PPC targeting use together with automatic bidding helps ad copies optimised and shown to more valuable potential customers.
PPC Marketing funnel
Getting people or your potential customers to have an interest in your services or products before finally making the final decision to purchase is a journey that comes in stages.
This is why funnels have a significant impact on your advertising campaign. The concept of the PPC marketing funnel is to help guide your potential customers on the path to purchasing your products or services.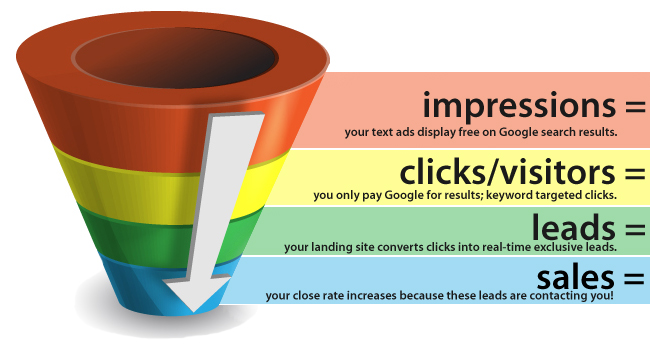 As shown above, A typical PPC marketing funnel describes the process by which your PPC campaign attract your customers from search paid ads impressions to clicks, from clicks to leads and finally leading to sales.
Funnels also help you understand your customer's desires and offer them what they are looking for or design custom offers for them based on their specifications or prices.
PPC marketing funnels help you track and keep your customers segregated for effective remarketing and retargeting. The filter provided by funnels is extremely important and helpful.
To make PPC funnels more effective, you can use email marketing tools such as ConvertKit to schedule emails that will be sent out regularly based on specific actions taken by your potential customers.
There are many PPC funnel services online, you could choose one and integrate it with your email marketing prefered tool to make the entire funnel process more effective.
Understanding PPC vs CPC
Understanding PPC Vs CPC is explained in the video below.
Keywords Targeting
keyword targeting is an incredibly powerful targeting feature used for PPC marketing or search engine marketing.
It gives advertisers the opportunity to filter and target a specific audience who might type in certain search queries and allows those ads to be shown only to those specific or closely related keywords.
Google keyword planner
One of the must-do when it comes to PPC marketing is the use of Keyword research. Understanding your keywords will definitely get your campaigns to perform better.
This is because keywords give you all the information you need to know about your target audience, your approximate cost per click (advertising campaign cost), the search volume and other related keywords you should use.
This is why the Google Keyword planner tool comes in handy. Even though there are several other keyword research tools, Google Keyword planner is still one of the most used and the most popular keyword tools.
As shown in the image above, it pretty much shows all the information on all related search queries to help you make a more informed decision when it comes to choosing your keywords for your PPC advertising campaign.
Tips for choosing keywords
Choose keywords that are less competitive (low and medium).
Choose keywords with high search volumes.
Choose long-tail keywords.
These types of keywords are proven to deliver better results and you should go for it.
PPC Optimization for Conversions
The main goal of PPC campaigns or search engine marketing is to get your potential customers to take or complete a certain action.
It's not just by buying clicks but making sure those clicks lead to specific actions such as, buy a product or service, signing up for a course, signing up for a newsletter, downloading an app etc.
Understanding your end goal helps you keep track of your conversion to enable you to determine if your PPC campaigns are doing well or not. If your campaign is delivering the required results and probably which of the campaigns are delivering higher value.
Google ads offer advertisers the opportunity to track their conversions when certain actions are taken by using a Google snipper code embedded in the conversion page of the check-out or thank you page after purchase if completes.
One great benefit of tracking conversions is knowing who to retarget which is very important when it comes to digital advertising.
Bidding and Budgeting
PPC ad campaigns work well when optimized as supposed. PPC ad copies optimisation determines the Ad cost or ad spent.
The actual cost of clicks depends on many factors such as ad rank, competitors activity and bidding strategy.
To participate, advertisers have to participate in the auction by allocating cost or assigning bid cost which indicates how much they are willing to pay per click or per keyword.
This is done by indicating the maximum bid and the assigned budget per campaign.
Budgets at the campaign level.
Bids at the ad group or keyword level.
PPC budgets are set at the campaign level indicating how much the advertiser is willing to spend on a daily basis to control ad spend on a monthly basis.
The advertising budget should be set based on the overall ad campaign goal in order to get your ads to perform to reach your desired goal or budget.
In the case of real-time bidding (RTB). The actual amount the advertiser is expected to pay depends on several factors as mentioned above which are competitor activity, your ad rank or quality score which all determine the exact cost of your bidding and cost per click (CPC).
PPC Ads
The actual PPC ads are what your potential customers at going to see if every other thing is done right and you won the auction.
These ads are shown in SERP on the top and bottom of the first page of the queries results.
It's one of the best ways to guarantee fast entry to the market as you put in front of thousands and millions of people who are searching for your products and services.
These ads typically contain:
Headline.
URL to a landing page.
Description of your product or service.
To make your Ads appearance more effective, Google Ads and Bing Ads give advertisers the opportunity to use various Ad extensions such as
Sitelinks extensions which lead to specific landing pages.
Call extensions, which allows people to call a business during working hours.
App Extensions, helps advertisers promote apps for more downloads.
Rating extensions work great when the business is promoting Apps or have product or services ratings to increase trust.
These features help your ads to perform better while delivering more value for your overall PPC campaign.
Conclusion
This might be the tip of the iceberg, however, it pretty much highlights what you can achieve for engaging with PPC marketing.
PPC marketing is an incredible way to kick start your business growth and enables quick entry into the market. However, it does work well only when it's done right.
It is also not the only way to benefit from search engines, in fact, organic search optimisation that delivers organic traffic is very much alive and very effective. This takes time and energy but certainly works for many businesses.
If you are not ready to start spending or simply don't have the finance to start your PPC marketing campaigns, Search engine optimisation (SEO) is the way to start.