This Bluehost review takes you through the process of starting a blog or website which requires a strategic long term plan for sustained revenue.
In any case, you will need reliable web hosting that guarantees the best performance of your blog or website.
It sucks having a web host that fails regularly with excuses from the hosting company while disappointing your visitors and ultimately killing your business or blogging career.
On the other hand, some web hosting companies are just too slow, not-secured which affects your search engine rankings and overall growth.
Trust me, you won't want to go through all that crap with your blog or website and this is why you need Bluehost for your web hosting.
Here is a Bluehost review and how to get you started.
So what is Bluehost
Bluehost is a web hosting company owned by Endurance International Group. It is one of the top 20 largest web hosts. Bluehost powers over 2 million websites worldwide.
The company was founded in 2003 over 17 years ago and Bluehost offers services including shared hosting, WordPress hosting, VPS hosting, dedicated hosting and WooCommerce hosting. Their servers are powered by PHP 7, HTTP/2, and NGINX+ caching.
Best web hosting for WordPress
In my opinion, Bluehost offers some of the best web hosting services. When it comes to hosting for WordPress, they are simply exceptional and do an outstanding job of making sure your WordPress site or blog performs at optimal levels.
Apart from offering 99.9% uptime, you will be sure your WordPress hosting will be fast, secure and runs on some of the best hosting servers the world has ever experienced.
Bluehost pricing (Bluehost review)
As far as web hosting pricing, Bluehost still offers a reasonably cheap web hosting plan. Take a look at the great features that come with their hosting plans and considering how reliable and secured their web hosting services are, their prices are really cheap.
The value you get is awesome especially if you are just starting up and don't have too much money to play around. This might be the best hosting plan(s) for you to start your business website or your blogging career.
Apart from the hosting plans, here is what you will get in addition to your Bluehost web hosting plan
Bluehost Web hosting services
Many web hosting companies offer customer services but not all those customer services are good.
One thing I can guarantee you is great customer service from Bluehost. Their customer service is absolutely fantastic and designed to get your issues solved as quick as possible.
You can call or live-chat their customer services anytime and you will be attended to ASAP.
What made them exceptional is, that they make sure your issue is solved within the shortest possible time.
Also, they make sure some of the most important services you need to keep your business running smoothly are taken care of by their professionals.
Installing your WordPress on Bluehost
Here are the steps you need to get started with Bluehost.
Step 1. So one of the first things you need to do is to head to the Bluehost website here "BlueHost WordPress Hosting" to get started with your website or Blog.
Step 2. Select your hosting plan shown in the image below. These plans are in three sections and if you are just starting up. The "Build" Plan will work well for your website or blog.
Step 3. In the third stage, you will need to choose your domain name. Since they offer you a free domain, you do not need to pay extra money to buy a domain that saves you money.
Step 4. Creating your BlueHost account is the next thing you need to do as seen below. You will need to fill all those spaces to get your Bluehost account registered.
Step 5. Review and payment to get started. You also have payment options such as PayPal and other payment options including card payment. Once done, you can head to the next stage to install your WordPress.
Step 6. Install WordPress, installing WordPress is very easy and can be done with just a few clicks. You will be required to fill in basic information and the BlueHost CPanel will do the rest of the installation for you.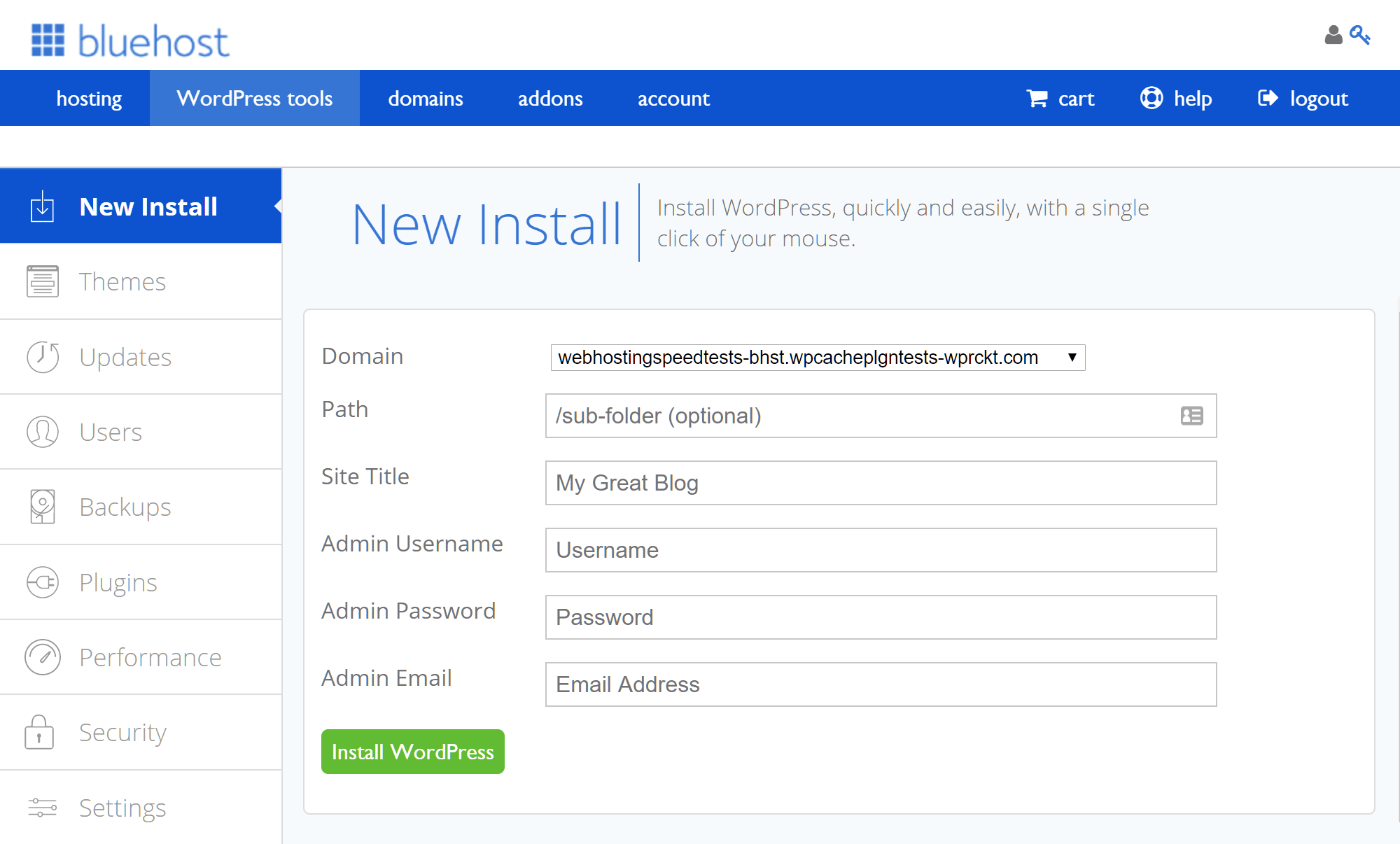 Step 7. Login to your WordPress, once done, you will be taken to the WordPress dashboard to start building your site. Also, the BlueHost WordPress plan comes with great free themes for you to choose from and start building your website or blog saving you cost for premium themes.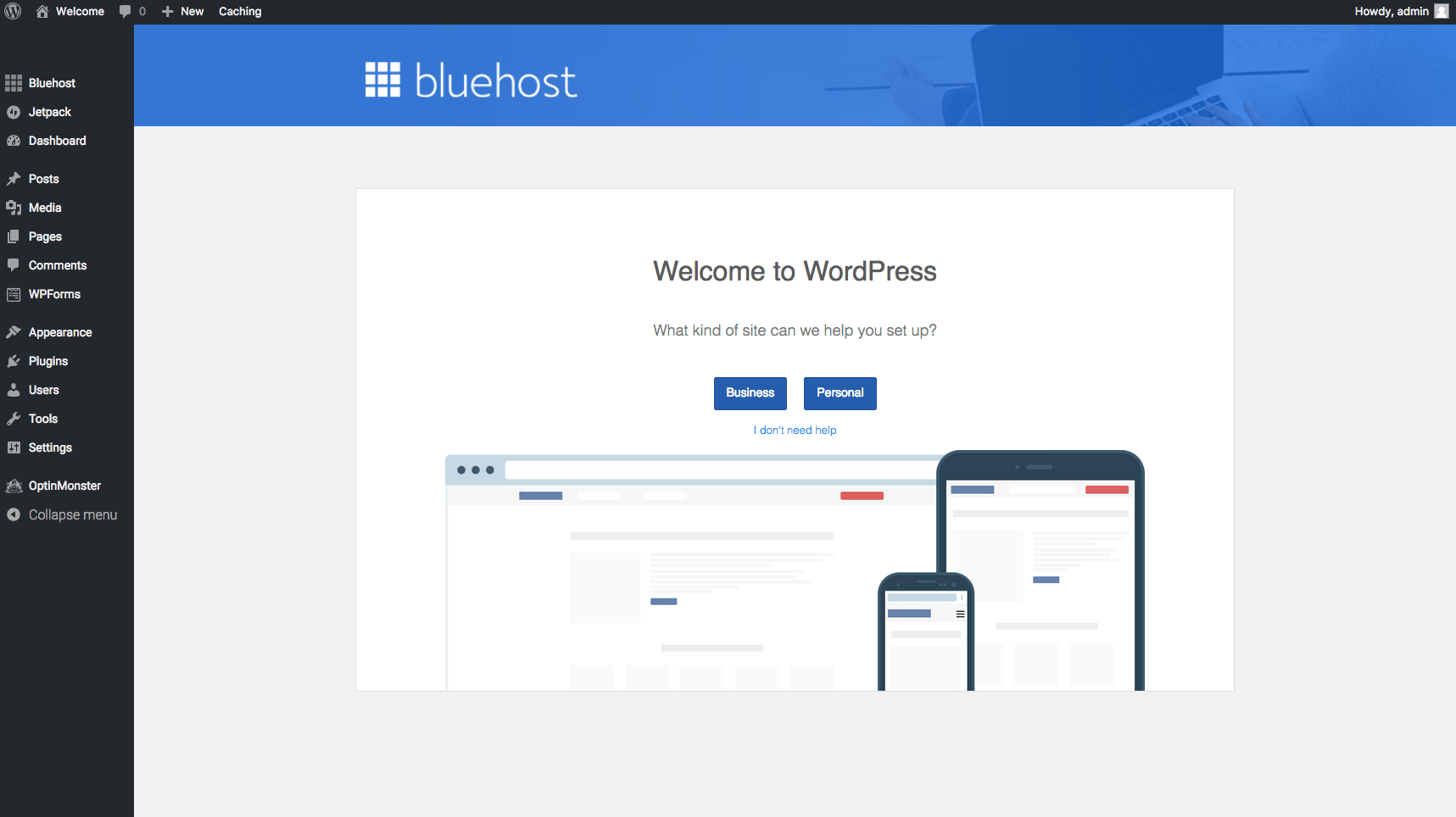 Here are some of the most important plugins you need to grow your WordPress website or blog faster and better.
These plugins range from SEO to caching plugins to help your WordPress site or blog perform at optimal.
Also when it comes to WordPress, I will always discourage installing a lot of plugins as it might slow down your website. However, here are the most important WordPress plugins you need.
Ready to get started with BlueHost, click below to start
WordPress SEO plugins
My favourite SEO plugins are RankMath and Yoast. These two plugins will do a great job of making sure your Search engine optimisation is taken care of.
These include connecting to your webmasters, Analytics and social media platforms. This help to alert you when there is an SEO-related issue on your site, redirects, internal and external linking and indexing issues.
They are the most important SEO plugins you need to have on your website or blog.
BJ Lazy Load
This plugin helps sites or blogs with many images load only when those images are needed while preventing the slowdown of your website or blog. Hence speed is an important ranking factor and user experience, you need this plugin for your site performance.
Akismet Anti-Spam
One of the best plugins that prevent spammers from spamming your WordPress. It prevents spam comments and keeps your website free from spam while preventing your site or blog to be penalized by search engines.
Conclusions
This Bluehost review is meant to take you through the process of starting a blog or website with Bluehost Web hosting making it easy for you to start your blogging career or business with one of the best web hosting services.
I think is time for everyone willing to have a business whether offline or online should have a website and consider hosting it with a reliable hosting company such as Bluehost.